Afghanistan & Kazakhstan sign 2 agreements, 4 MoUs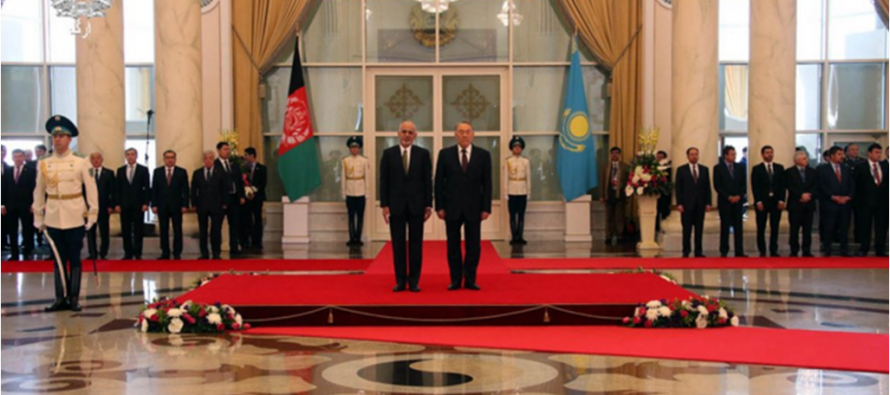 The Afghan and Kazakh government signed two agreements and 4 memorandum of understandings (MoUs).
According to a statement from Afghan presidential palace, the agreements were on cooperation in the fields of culture and civil defense and prevention and emergency response.
The four MoUs were signed between the following parties:
Afghanistan's Ministry of Agriculture, Irrigation and Livestock (MAIL) and Kazakhstan's national company, "Food Contract Corporation".
Afghanistan's National Standards Authority and Committee of Technical Regulation and Metrology of Republic of Kazakhstan
Afghanistan's Independent Administrative Reform and Civil Service Commission and Kazkahstan's Agency for Civil Service.
Afghanistan's Institute of Diplomacy and Kazakhstan's Academy of Public Administration
President Ghani headed a high-level government delegation for his trip to Astana. In his interview with Kazakh's Khabar Agency on the eve of his official visit to Astana, President Ghani noted that the main goal of the two countries is the development of comprehensive economy and trade relations.
---
---
Related Articles
Italian Prime Minister Enrico Letta assured Afghan leaders Sunday that Italy will continue to support Afghanistan that has been beset
Herat's Municipal Mohammad Salim Taraki said 40 kilometers of roads would be blacktopped by next year at a total cost
As the Afghani plummeted against the dollar in the market ($1=53.2AFN), rumors about the currency situation worsening are boiling up.