Afghanistan, Pakistan discuss economic cooperation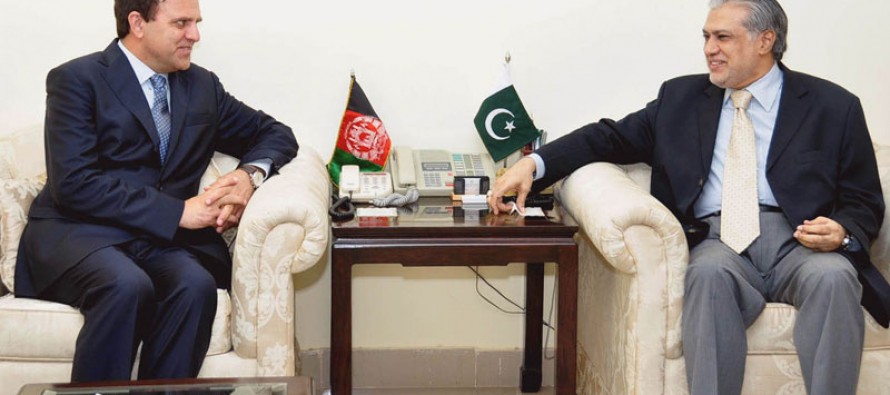 The new Afghan Ambassador Hazrat Omar Zakhilwal discussed economic cooperation with Pakistan's Finance Minister Senator Ishaq Dar on Saturday.
Minister Dar welcomed Zakhilwal as the new ambassador and discussed Pak-Afghan economic cooperation with particular emphasis on steps for promoting trade and developing communication linkages.
The Afghan envoy assured that Afghanistan would make out all efforts to strengthen bilateral ties between the two neighboring countries.
Ishaq Dar reiterated that Pakistan took great pride in relations with the brotherly Islamic country and said there was a great availability of opportunity to take the bilateral trade to a new level.
He highlighted some of the projects that Pakistan have undertaken in Afghanistan as a goodwill gesture.
Earlier it was reported by Pakistan's local media that Ministry of Planning, Development and Reform had announced the launch of projects worth USD 500mn in Afghanistan.
Minister Ahsan Iqbal said the projects covered various sectors including education, health and infrastructure.
According to Pakistan's local media, Pakistani government has also offered 3,000 scholarships to Afghan students in different universities.
---
---
Related Articles
(Pajhwok Afghan News Weekly Price Report) Prices of gas, sugar and Arabian gold fell but that of the Iranian variety
A four-day Afghan-Iranian trade summit has been held in Kabul from October 19-22 to help bolster ties between the two
The TUTAP– acronym for Turkmenistan-Uzbekistan-Tajikistan-Afghanistan-Pakistan–is a big regional project that will connect these countries through a high voltage transmission system.