Afghanistan receives certificate of permanent membership to AIIB
by Wadsam | October 15, 2017 8:27 am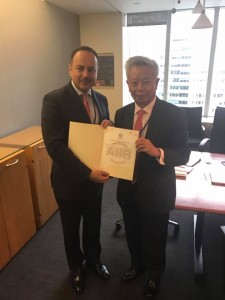 [1]
Afghanistan received the certificate of permanent membership to the Asian Infrastructure Investment Bank (AIIB), according to a statement from the Afghan Ministry of Finance.
The membership will provide financial and technical facilities for implementation of major national projects including solar energy, railway connectivity of five countries (Afghanistan, Kyrgyzstan, Tajikistan, Iran and China).
Afghanistan received the certificate on the sidelines of the World Bank and International Monetary Fund meetings where Afghan Finance Minister Eklil Hakimi met with Jin Liquin, the president of AIIB.
AIIB is a multilateral financial institution that helps address daunting infrastructure needs across Asia by furthering interconnectivity and economic development in the region through advancements in infrastructure and other productive sectors.
Endnotes:
[Image]: http://wadsam.com/afghan-business-news/afghanistan-receives-certificate-permanent-membership-aiib-232/attachment/aiib/
Source URL: http://wadsam.com/afghan-business-news/afghanistan-receives-certificate-permanent-membership-aiib-232/
---