Afghanistan's growth rate projected at 2.9% in 2017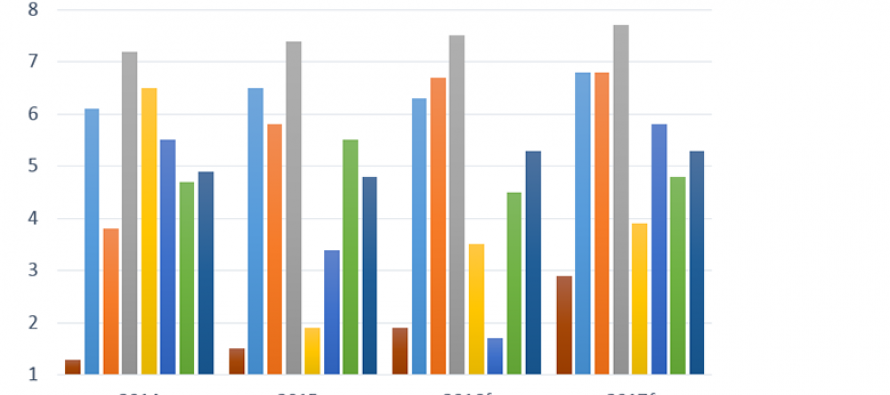 According to World Bank's twice-a-year South Asia Economic Focus, which was released on Monday, Afghanistan's economic growth rate is expected to only marginally increase from 1.9% in 2016 to 2.9% in 2017.
The report has cited persisting political and security uncertainty as the main factors that have hindered business activities and overall domestic demand.
Fiscal vulnerabilities remain high and will require a large revenue effort and sustained levels of aid. Future prospects hinge critically on improvements in security tapping into new sources of economic growth and creating an enabling environment for the private sector to invest.
Overall, South Asia has remained strong in the face of turbulent international markets and remains the fastest-growing region in the world, according to the report.
The economic growth rate of South Asia is forecasted to gradually accelerate from 7.1% in 2016 to 7.3% in 2017.
Given its weight in the region, India sets the pace for South Asia as a whole. Economic activity is expected to accelerate from 7.5 percent in FY2016 to 7.7 percent in FY2017 based on the expectation of strong private investment, a push in infrastructure spending, an improved investment climate, and deleveraged corporate and financial balance sheets.
"South Asia has been resilient to global turbulence due to its limited exposure to slowdowns in other major economies coupled with the tailwinds of favorable oil prices, capital flows, and remittances," said Annette Dixon, World Bank South Asia Vice President. "However, fiscal and financial vulnerabilities remain and countries should strive to address them through generating revenue and creating more fiscal space"
The report's analysis of fiscal policy across the region suggests that governments need to find a balanced path towards fiscal consolidation.
"Fiscal policy has a wide range of impacts for development. The fiscal deficit affect macroeconomic stability, capital expenditures are needed for growth, and taxes and social spending matter for equity," said World Bank South Asia Chief Economist Martin Rama. "With the currently low oil prices, this is also an opportune time for South Asian policy makers to introduce or expand explicit carbon taxes. This would improve environmental and fiscal sustainability at the same time."
---
---
Related Articles
Afghanistan's traffic revenue has reportedly decreased by about 1bn AFN due car owners' avoidance of purchasing plate numbers with number
Work on the construction of a three-story building for medicine department of Al-Beroni University in Kapisa province has been completed.
The United States Agency For International Development (USAID) contributed an additional $2.5m this week for emergency food assistance to 15,000