Collecting old banknotes in 1 month is impossible: Afghan moneychangers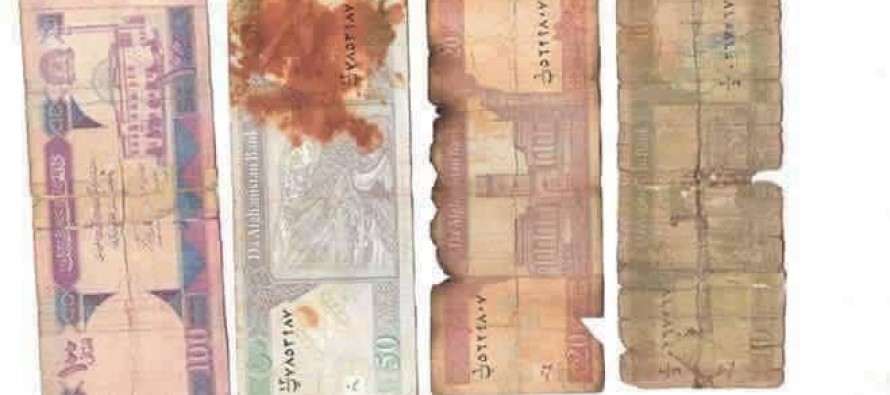 The Afghanistan central bank, Da Afghanistan Bank (DAB), announced last week that shabby banknotes would no longer be valid start of the coming solar year 1396 and called for collecting them from the market in one month.
However, moneychangers believe the period given was too short.
According to moneychangers, people are obliged to exchange the old notes against reduced rate–a process that is inflicting financial damage on the people.
Around 500 branches of the government and private banks have been tasked countrywide with collecting banknotes from people.
DAB's deputy head Mohammad Qasim Rahimi said the collected unusable banknotes would be torched in front of the media after March 21.
The central bank has so far collected 25mn worth of old banknotes since February 1.
Every year, the bank torches and exchanges 3.3bn old banknotes and it requests people to handle banknotes with care.
According to the officials, this measure is as per Article 39 of Da Afghanistan Bank and it helps to prevent  wearing out of further banknotes in the market.
The following features seen in a banknote will make it invalid:
    Presence of a sticky material on the banknote
    Any writing or drawing on the banknote
    Any stamp on the banknote
    Poorly folded, wrinkled banknote
Moneychangers said the central bank had promised them extension in the time if failed to complete the mission until March 21.
---
---
Related Articles
The Afghan financial institutions are urged to establish links with a US bank to allow for an interrupted dollar transfer.
Safiya Wazir, a 27-year-old former Afghan refugee, won the New Hampshire state democratic primary on Tuesday night. She beat out
The Afghan-Germany cooperation has published a research paper on mining governance titled "A Balancing Act for the Extractive Sector Governance".