First Afghan-Turk Business Matchmaking Conference held in Turkey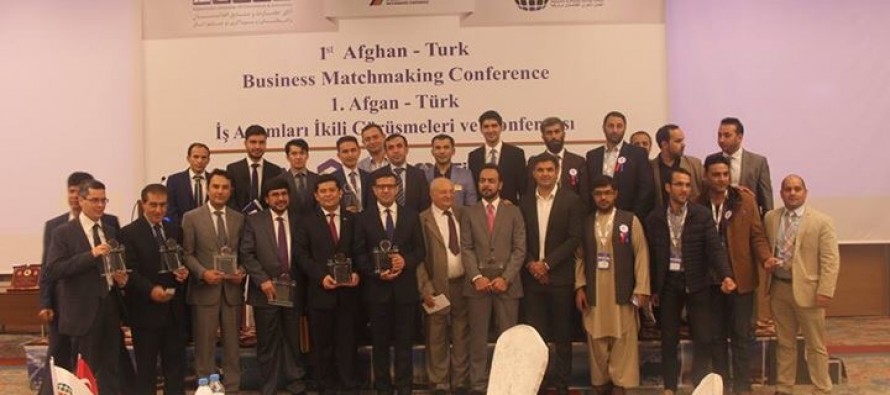 The first ever Afghan-Turk Business Matchmaking Conference was held in Istanbul, Turkey on 21-22 October.
The even was organized by the Afghanistan Chamber of Commerce and Industries (ACCI) and Afghan Business Association in Turkey (AIAD) in collaboration with other business organizations of both countries in Gorrion Hotel of Istanbul, Turkey.
The conference was aimed at promoting Afghanistan's business and investment opportunities. It gave an opportunity to present ample information on investment potentials of various sectors of the Afghan economy.
The Conference specifically looked to promote Afghanistan as a viable and realistic destination for Turkish businesses and explore the tremendous business opportunities that exist in agriculture, mining, construction, health, education, energy, infrastructure and various other sectors.
Humayoon Rasaw, Minister of Commerce and Industries of Afghanistan leaded a delegation comprising of Jarullah Mansoori, Deputy Minister of Transport and Civil Aviation, Sayed Mir Ahmad Jawid Sadat, Deputy Minister of Mines and Petroleum, Sadullah Haqyar , Head of Secretariat of ACCI, Atiqullah Nusrat, CEO of ACCI, Mohammad Qurban Haqjo, President of AISA, Wahiddullah Waissi, Director General for Economic Affairs of Ministry of Foreign Affairs, Nayeem Yassin, President ABA, Yama Yari, President of Afghanistan National Procurement Authority, Hasibullah Khawar, Advisor to Minister of Commerce and Industry and 54 other Afghan businessmen/women to attend the conference.
The conference was also attended by Amanullah Jayhoon, Ambassador of Afghanistan in Republic of Turkey, Ezatullah Sadat, Head of AIAD, Cihan Candemir, Chairman of Afghan – Turk Business Council, Taner Bozkurt, Vice-President of Turkish Economic Club, Mithat Yenigun, Vice-President, Foreign Economic Relation Board (DEIK) and private sector representatives.
---
---
Related Articles
The National Horticulture and Livestock Project is going to launch 3000 gardens planted with grape, almond, apricot, cherry, apple, pear
Afghanistan has entered the new fiscal year but without a national budget. The lawmakers unanimously rejected the draft national budget
According to the Afghanistan Chamber of Commerce and Industries (ACCI) officials, Afghanistan's exports through Karachi port have declined by 40%.