Helmand's Nahr-e Saraj district delivers much-needed vaccines for local livestock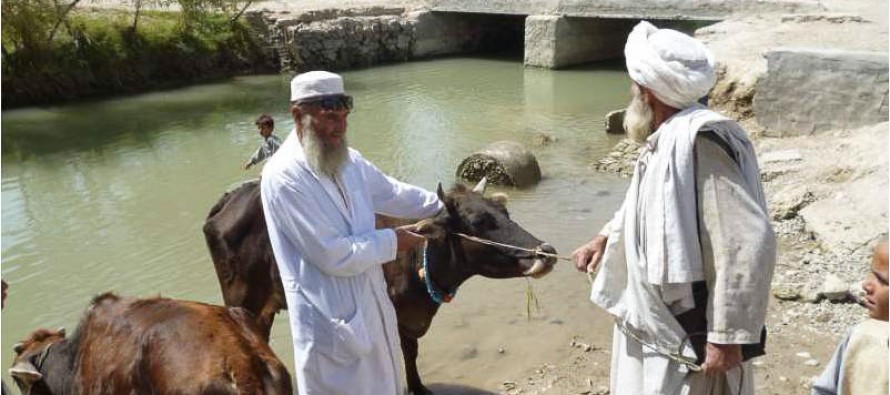 Nahr-e Saraj district leadership concluded an outreach event Aug. 26 in Deh Adam Khan that left local residents with 250 healthy cows and renewed sense of contentment for their government.
Haji Walidad, the district and Gereshk city veterinarian, led the initiative Aug. 22-26 in Helmand province's Nahr-e Saraj district, preventing the spread of deadly livestock illnesses.
He spread the word about the possible outbreaks via local radio broadcast. Just days before, Afghan National Army Special Forces distributed more than 150 radios to residents, helping to keep them better informed of local initiatives, such as Walidad's.
"You must pay attention to that sickness because it is very dangerous," explained Walidad during his radio message. "The illness can affect your animals and kill them without the medicine."
The vaccinations are part of an ongoing plan by district leaders to bring safety and progress to Helmand, Mohammed Fahim, the district governor, said.
Programs like this would not be possible without the ongoing security efforts by Afghan Special Forces, District Police Chief Capt. Saymand Hekmatullah added.
"The people in the Deh Adam Khan area are very pleased with the district for providing the vaccinations and reaching out to them," said Walidad. "The people are pleased that the district has taken such an interest in their well-being."
Two men from the area personally thanked the governor for the recent outreach programs in the village, said Fahim.
"The men explained that the vaccinations were much needed and helped many families," Fahim said. "They had never seen the district take such an interest in Deh Adam Khan, and everyone in the area was very pleased."
---
---
Related Articles
A group of young Afghan women  are working on developing a mobile app to help attract tourists to Afghanistan. The
A decline in import duty on liquefied gas and fuel has dropped the revenues from fuel imports through the Hairatan
Afghanistan is in talks with Chinese officials over the building of a permanent exhibition center in Kabul. The Chinese are