Japan, Afghanistan sign accord on development projects in Nangarhar province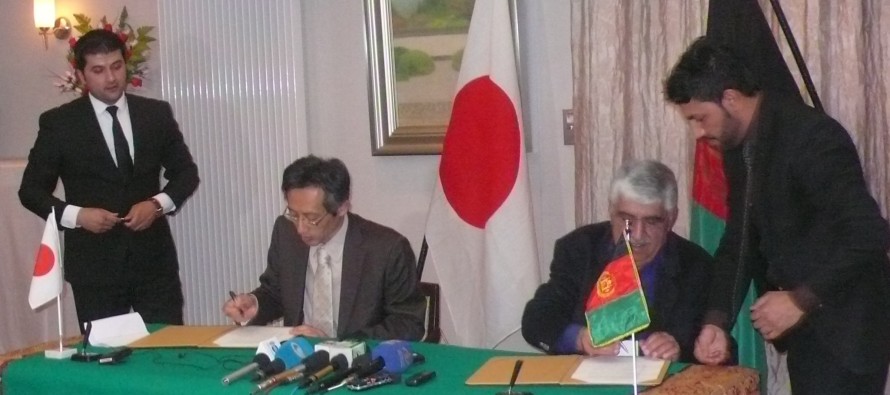 Japanese government has agreed to provide USD 173,236 to fund two new development projects in Nangarhar province.
An agreement to that effect was signed in the Embassy of Japan on Monday between Charge d'affaires ad interim of the Embassy of Japan, Yasunari Morino, and two non-governmental organization (NGOs) representatives.
Through its Grant Assistance for Grassroots Projects (GAGP), the two projects will be implemented in Khewa and Sorkh Rod Districts of the Nangarhar province.
The first project is covering the plantation of the 500 Date's Plants in 10 Jerib of land in the Gamberi Desert of Nangarhar province, where the Peace (Japan) Medical Service (PMS) will be implementing the project. This project will be the first private dates farm in Nangarhar province and it will also provide knowledge for the local farmers in future to build up their own farms.
The Second project is construction of orphanage in Sorkh Rod District of Nangarhar province where the project will provide safe stay for the 80 orphans (Boys and Girls) and will also promote the level of education of the orphans at the same time.
"These two projects will provide job opportunities for the community people which will directly improve their economic situation and will also reduce the number of Refugees.", said Yasunari Morino.
Japan has been assisting Afghanistan's nation-building efforts in various fields including security, education, health, culture, humanitarian assistance, agriculture, infrastructure and its capacity development. Cumulative Japanese assistance to Afghanistan since 2001 amounts USD 5.87 billion.
---
---
Related Articles
Graduation commenced today for USAID's Afghan Women in Engineering and Architecture Internship program when eight female engineers and architects completed
Iran is considering signing an oil deal with North Korea on the export of oil in an attempt to revive
President Hamid Karzai has set up a High Economic Council, led by the president himself, to boost the country's economy.