Pashtun stage play brings Pakistan, Afghanistan closer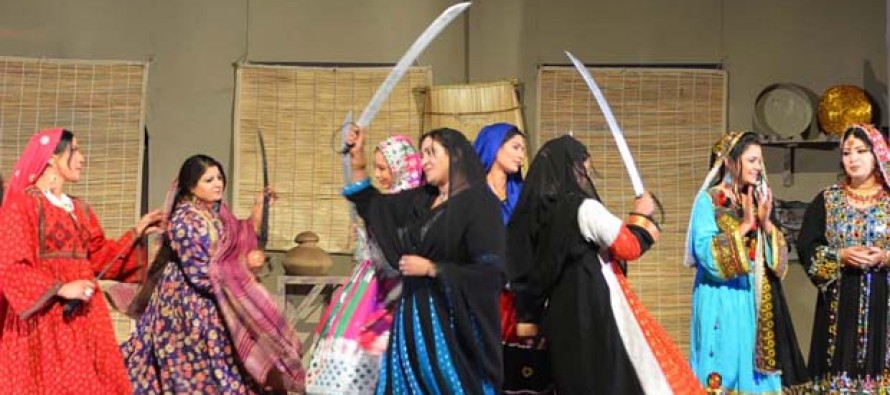 PESHAWAR – A play about 17th-century warrior and poet Khushal Khan Khattak, which played to a full house every night in Peshawar February 4-6, has drawn the attention of the Afghan government.
Kabul asked the Khyber Pakhtunkhwa (KP) government to stage the play, Sahib-e-Dastaar, in Kabul, Jalalabad and Kandahar.
If staged in those cities, the play could aid the KP Culture Department's efforts to unify Pakistan and Afghanistan by publicising the lives of Pashtun heroes. Last year, Afghanistan staged a production about Pashtun Sufi poet Abdur Rahman Baba.
Play wins plaudits
The Afghan government noticed the positive reaction the play earned during its run in Peshawar's Nishtar Hall. Local audiences applauded it profusely, as did visiting Afghans who gave the 150-minute production a standing ovation.
Parveen Malal, Afghan cultural attaché in Peshawar, watched the show and made the official request for a performance in Afghanistan. Pashtuns on both sides of the border have common heroes and strong cultural bonds, she said.
"It is the most visible face of Pakistani-Afghan unity," she told Central Asia Online.
The first-ever play on the life, political struggle and vision of Khattak, the pride of the Afghan people, excited great interest in viewers, she said. "I am really impressed with the superb performance of the actors, script and direction," she said.
Reaction by spectators
The play also drew positive responses from spectators.
"I came from Kabul with my friends to watch this great play," Anar Shah, an Afghan student, said, adding she and her friends thoroughly enjoyed it. "We want the KP government to take this play to Afghanistan. It will further cement our cultural relations."
"Khushal Khattak is a great hero revered by Pashtuns on both sides of the Pak-Afghan border," Peshawar writer Noor-ul-Bashar Naveed said. "Given the successful experience of the theatre, we can safely assume that the play could draw the Pashtun populations closer."
He suggested showing such plays on TV to send a message of peace and love.
Play director Masood Ahmed Shah, who won awards for his earlier work in Pakistan Television, said the response by audiences – especially women, who flocked to the shows – "overwhelmed" him.
The play drew many female spectators because the cast included an unusually high proportion of women for a KP production, he said.
KP ready to take show on road
The KP government is ready to accept the Afghan invitation, and so is the show's star.
"It is our endeavour to spotlight the achievements of different Pashtun heroes, and this is part of those efforts," KP Information Minister Mian Iftikhar Hussain told Central Asia Online.
The KP government, besides considering sending the play to Afghanistan, will try to put on an Urdu-language version in Karachi and Quetta, Iftikhar said. KP can afford the Rs. 30m (US $310,000) cost of staging the play in Afghanistan, he added.
"I would love to perform in Afghanistan," said young Kaleem Khan, who brought a commanding voice and delivery to the role. "Doing more plays would fine-tune my acting. I was initially afraid to perform the role, but later I accepted it as a challenge." He did his best to evoke Khattak, and audiences seemed to appreciate the job he did, he said.
Khattak's life highlighted in play
The play encompasses Khattak's multi-dimensional character and times. Khattak in his youth served as a loyal mansabdar (local viceroy) of Mughal emperor Aurangzeb Alamgir. Also the chieftain of the Khattak tribe, he later turned into a foe of the Mughal Empire and struggled to unify the Pashtun tribes.
"Khattak's relentless struggle to promote Afghan nationalism via his poetry can still be be a binding force against violence and terrorism," Bashar said. (centralasia online)
---
---
Related Articles
Afghan Ministry of Finance has collected 54.68bn AFN in customs revenue this year, which is up by 7% over last
The UK government has pledged a grant of £47 million to fund education projects for underprivileged young girls of Afghanistan.
A 76-bed hospital is going to be built in Faizabad city of northeastern Badakhshan province with funds from the German