President Ghani calls for public private partnership to develop Kabul city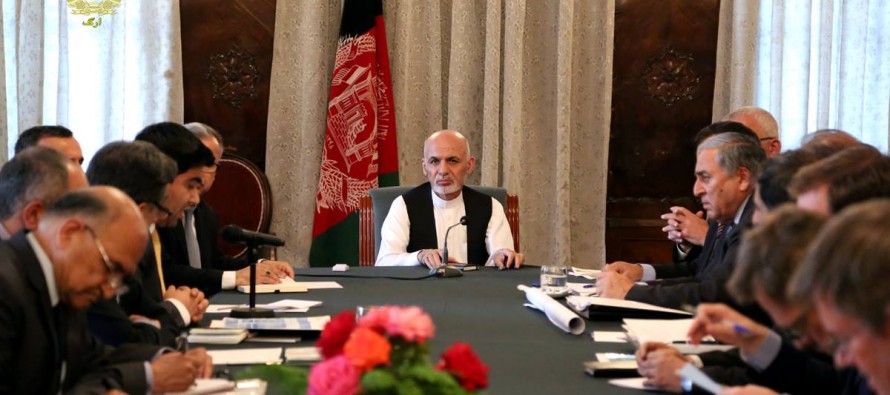 President Ashraf Ghani discussed the development of Kabul city in his meeting with several ministers including those of Urban Development and Transport and Kabul's acting mayor on Monday.
He called for partnership between the public and private sector to develop the capital city.
"Kabul's boundaries need to be identified and the legal issues concerning residential properties and areas need to be address," said the President.
Air pollution, congestion and shortage of drinking water are major problems of Kabul city where 5 million people are residing.
President Ghani instructed concerned authorities to prepare a comprehensive and practicable plan for the development of Kabul city in its earliest and present it to the office of the President.
He stressed the plan should consider proper city transport system, sewage system, greenery, house construction, standardizing construction affairs, reviving historical sites, normalizing land prices and rent rates and promoting the principle of ownership feeling.
This week, he also discussed the construction of Kabul Ring Road and regarded as an important factor for the development of Kabul's economy.
With financial support from the Asian Development Bank and Islamic Development Bank, the Ring Road project is expected to improve commercial transit, security and congestion in the capital.
The Kabul ring road will be 95 KM long, starting from Chahar Asyab area and moving toward Arzan Qeemat, then passing through Mahipar to New Kabul in the Deh Sabz area. The road will connect to Qalaye Murad Beg in northern Kabul and then to Paghman, from which it will then loop back to the Chahar Asyab area.
The feasibility work of the project was completed earlier this year. Consisting of six lanes along with bridges, the project is estimated to cost USD 300mn
---
---
Related Articles
The Office of the International Chamber of Commerce (ICC) was formally inaugurated in Kabul on Thursday in presence of senior
The officials have reported a 40% boost in the Municipality revenue. "We generated a revenue of more than 68mn AFN
Addressing a press conference in Istiqlal High School, Dr. Ashraf Ghani Ahmadzai presented his 5 year national economic development policy.