Afghanistan qualifies for semi-finals of SAFF championship after defeating Sri Lanka 3-1
in Sports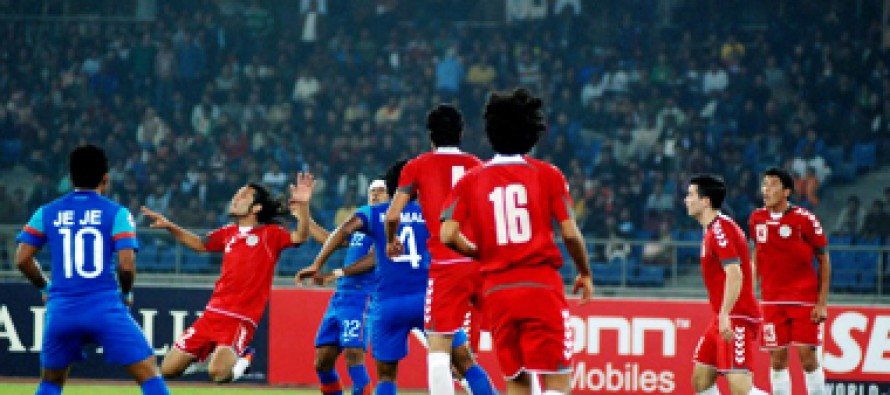 The Afghan football team qualified for the semi-finals of the 2013 South Asian Football Federation (SAFF) Championship in Nepal on Wednesday after defeating Sri Lanka 3-1. Afghanistan is scheduled to face its last Group B opponent, the Maldives, on Friday.
The Sri Lankan team started off strong, much to most onlookers surprise after their 10-0 loss to the Maldives on Monday, and scored the match's first goal in the '37 minute. Sri Lankan goalkeeper Sujan Perera then managed to save an Afghan penalty shot by Belal Arezou (#10) before the close of the half.
In the second half, the Afghan squad began to show the dominance many expected of them. Mohammad Rafi (#6) scored a stunning goal straight off of a corner kick to level Afghanistan with Sri Lanka 1-1. Islam Amiri (#3), legally named Haroon Fakhurddin, scored the second goal for Afghanistan in the '76 minute to take the lead. The third goal was scored ten minutes later by Hashmatullah Barakzai (#12).
Both Amiri and Barakzai notched goals in Afghanistan's previous match against Bhutan on Monday, which the team won 3-0. Amir was awarded the medal for "best player of the match."
"We were sure that we would win this match, because Sri Lanka was defeated by Maldives 10-0," said a confident Yousuf Kargar, the National Team coach.
Back in Afghanistan, residents praised the team's performance. "The victory of the Afghan footballers is a big honor for the people of the country," said Ehsaan, a resident of Kabul province.(Source: Tolo News)
---
---
Related Articles
Scoring a double against Sevilla in UEFA super cup, Cristiano Ronaldo now has a total of 70 goals in European
Afghanistan's top-notch cricketer Hamid Hassan is set to move to Bangladesh to play for the Barisal Burners club at the
Sri Lanka cruises to the final of cricket's Asia Cup after sweeping a 129-run victory over Afghanistan in Dhaka, Bangladesh.