10 awards given out in first ever Afghan Social Media Awards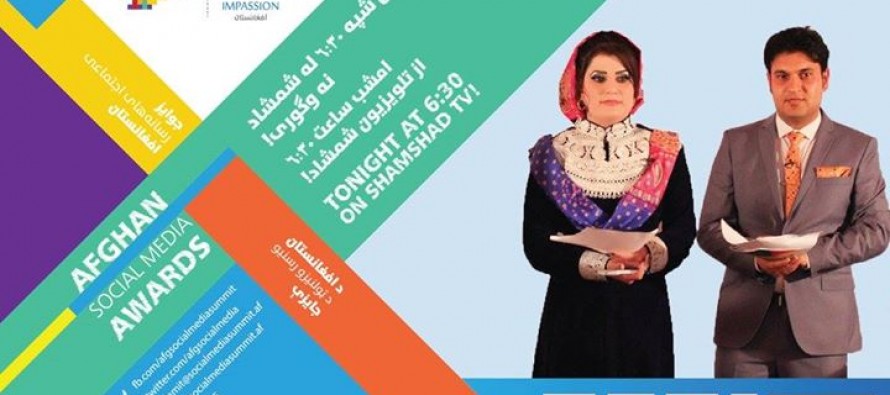 Ten awardees received recognition for their social media use tonight in the historic Afghan Social Media Awards.
The Afghan Social Media Awards were organized as part of Impassion Afghanistan's third annual Afghan Social Media Summit, and aired tonight on Shamshad TV.
Hosted by Pashtana Arabzai and Hashmat Stanikzai of Shamshad TV, the award presenters included Ministry of Interior Spokesperson Seddiq Siddiqi, head of RTA Zarin Ansor, and Afghan Olympic Athlete Ahmad, among others.
The ten awardees were:
Twitter Power User
Malali BashirTwitter.com/malalibashir
Best Instagrammer
@bilalsarwary for @afghanistan_you_neversee

instagram.com/bilalsarwary

Best Blogger
www.Norband.com
Youtube Star
SR Bros EntertainmentYoutube.com/srbrosentertainment
Facebook Star
Naim Atarudhttp://facebook.com/naimatarud
Citizen Journalist of the Year
Wais Barakzai
Best Social Media Advertising Campaign
Safi Airways
Best Use of Social Media for Civic Engagement
Delawar Faizan
Best Use of Social Media for Journalism
Kawoon Khamoosh
Best Use of Social Media to Inspire Offline Action
Omaid Sharifi
"As one of the very few active Afghan women journalists on social media, the prestigious ASMS 2015 will encourage other Afghan women to use social media by voicing their opinion about various issues in Afghanistan. Ultimately it will help women fill the vacuum by taking active part in social and political debate about our country," says "Twitter Power User" winner Malali Bashir.
The award process included two parts, a public nomination and voting process, followed by judgment by an Afghan and international jury. The jury, selected for their diverse set of experiences as well as expertise in social media, determined the winners
based on three sets of criteria: best practices in social media use, creativity and innovation, and impact on Afghanistan.
 The jury members were:
Aimal Marjan, Deputy Minister of Information Technology for Ministry of Communications and Information Technology
Malalai Shinwari, Member of Parliament for Kabul Province and long-time journalist
Dawn Barbar Co-Founder of the technology community New York Tech Meetup and former producer of the Shorty Awards, the first-ever social media awards
Xavier Damman, co-founder of technology company Storify, which curates social media stories.
Jean MacKenzie, Executive Editor of Paiwandgāh, Afghanistan's largest citizen journalism platform, and noted journalist
Ahmad Shuja, Co-Founder of Impassion Afghanistan, the first digital agency in Afghanistan
Massoud Hossaini, Pulitzer Prize Winning Photographer
"MCIT are very pleased to have partnered with Impassion Afghanistan to create the very first Afghan Social Media Awards. The Awards were a great success and we congratulate
all the winners and the organizers.This marks a great milestone in the development of social media in Afghanistan – which is so important for peace and democracy," says jury member Aimal Marjan.
Heelai Noor, the event producer for Impassion Afghanistan, says "It was an amazing experience to work on the Afghan Social Media Awards, and this was the very first set – we look forward to many more to come!"
---
---
Related Articles
The Insurance Group of Afghanistan received its license from the Ministry of Finance on Saturday in a ceremony at Kabul
Afghan Finance Minister Eklil Hakimi announced on Saturday that the National Procurement Commission (NPC) had scrutinized 900 contracts in one
Traders have informed the Wolesi Jirga about the onslaughts on the Kabul-Kandahar highway that have resulted in the death of