100 Women in Badakhshan complete training courses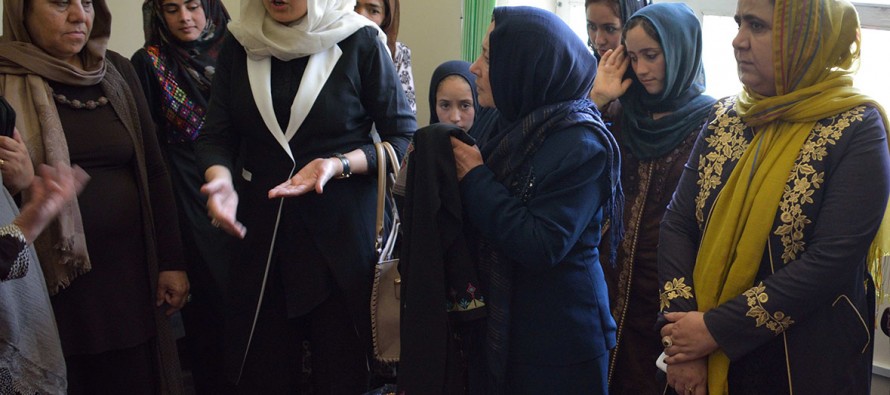 During the last 6 months, 100 women in Badakhshan received trainings in tailoring, English and Information Technology (IT) at Faizabad's Women Training Center.
The provincial authorities of Badakhshan, the Deputy Minister of Women Affairs, media and a representative from the German government celebrated the successful completion of training courses in Feyzabad, the provincial capital.
The Department of Women Affairs (DoWA) implemented the trainings at the provincial capital's Women Training Center which was opened 1 ½ years ago. Today, the second phase of a 17-month capacity development program for women in Badakhshan was completed. Since its opening, a total of 270 women participated in the training courses.
This time, 25 women signed up for tailoring. One of the participants of the tailoring class, Ms Fatima, said: "This training is a great opportunity for us women to learn new tailoring techniques, so we can compete with other products on the local market. This allows us to improve the financial situation of our families. But by means of our clothes, women can also develop their own style, and find a way of expressing themselves. This is great."
75 women attended the 6-month English and IT classes. As these skills are a requirement for most jobs offered in governmental and non-governmental institutions, the participants increased their chances for employment.
The participation of 100 women in this second training phase shows women's commitment to enter the labor market. The German government strongly supports women empowerment and thus provided funding for the construction of the Women Training Center as well as the implementation of training measures over the course of 17 months. In total, the German government has supported the centre at about AFN 24 million via the Regional Capacity Development (RCD) program. More than ANF 2.7 million of this budget is used for the trainings.
As part of Germany's cooperation with Afghanistan, the RCD, which is financed by the German Federal Ministry for Economic Cooperation and Development (BMZ), is implemented by Deutsche Gesellschaft für Internationale Zusammenarbeit (GIZ) GmbH. In six provinces in northern Afghanistan, RCD supports its partners' development priorities in the provinces and districts, while at the same time providing training and coaching programs for civil servants. With its broad range of activities, the RCD aims at increasing Afghan ownership of the development process, strengthening state institutions and promoting transparency and inclusiveness.
---
---
Related Articles
With a cost of 31, 957, 526 Afs 18 projects of the National Solidarity Program of the Ministry of Rural
China is believed to emerge as a strategic player in Afghanistan after the withdrawal of US troops. This has annoyed
Wheat production in Farah province this year has doubled, according to the provincial department of agriculture and livestock. Eng. Abdul