$100b investment at risk in Afghanistan due to security threats: SIGAR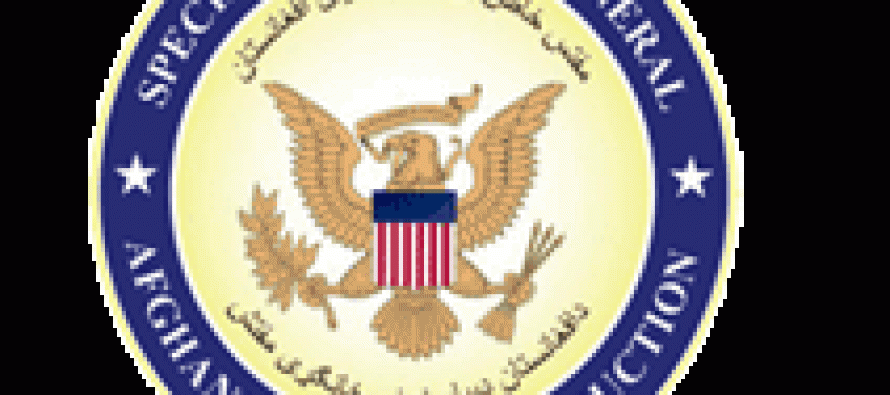 By Ahmadshah Ghanizada-The top US watchdog in Afghanistan in its latest report has warned that nearly $100 billion US investment is under threat from the lack of oversight and increasingly difficult situation in Afghanistan.
The Special Inspector General for Afghanistan Reconstruction (SIGAR) in its quarterly report has said that concerns remain regarding the capabilities of the Afghan national security forces as the NATO-led international coalition security forces are due to leave the country in little more than a year.
SIGAR in its quarterly report has also expressed concerns over the civilian inspectors' access to projects – American's biggest investment in the country, at roughly $54 billion.
The report by SIGAR comes amid growing concerns by international community about the difficulty of tracking billions of dollars in aid money, as the reconstruction efforts in Afghanistan for the past 12 years have came under heavy criticism.
SIGAR's latest report focuses on lack of accountability for billions of dollars in fuel purchases and spare parts for the Afghan security forces and concerns about rising casualties among Afghan troops as they take over more responsibility for day-to-day fighting.
Inspector General John Sopko quoted in the SIGAR report said, "The success of the U.S. mission in Afghanistan depends to a great extent on the Afghan National Army and the Afghan National Police's ability to protect Afghan civilians and prevent al-Qaeda and other terrorist groups from establishing strongholds from which to mount attacks against the United States and its allies."
The report also added that access to project sites will not be accessible after 2014 due to the lack of security, and the inspectors would hardly have access to 21 percent projects implemented beyond 2014.
In the meantime, the United States Agency for International Development (USAID) officials have said that the agency is continuing to monitor projects through a mix of first-hand reporting, Afghan government and civil society partners and independent contractors.
A USAID official speaking on the condition of anonymity told the American newspaper Stars and Stripes, "USAID will absolutely ensure that projects are performing as intended. As responsible stewards of taxpayer dollars, USAID is already implementing a multi-tiered monitoring strategy to collect and verify information to inform decision-making."
However, SIGAR in its report has expressed concerns regarding the aid delivery mechanism "direct assistance" due to continued corruption. SIGAR is currently examining USAID's program to evaluate ministries' ability to absorb direct assistance, as money directly goes Afghan government ministries under the aid delivery mechanism.
But the USAID official has said that robust controls including dedicated bank accounts for funds flowing to ministries, auditing programs, and regular financial and program reporting are in place to safeguard taxpayer money.
The official said, "There are risks involved in what we do. That includes government-to-government activities, but there is clear evidence that the extensive measures taken by USAID to safeguard taxpayer resources have been successful."
---
---
Related Articles
Despite of many challenges for women entrepreneurs in Afghanistan, Baran, a female entrepreneur, has opened a Rugby store in Kabul.
Afghanistan's first private insurance company, Insurance Corporation of Afghanistan (ICA), launches its travel insurance package which offers a wide range
As many as 67 development projects would be implemented in Kabul's districts of Farza, Mirbachah Kot and Kalkaan at a