12 technology startups successfully complete 8-month incubation program in Kabul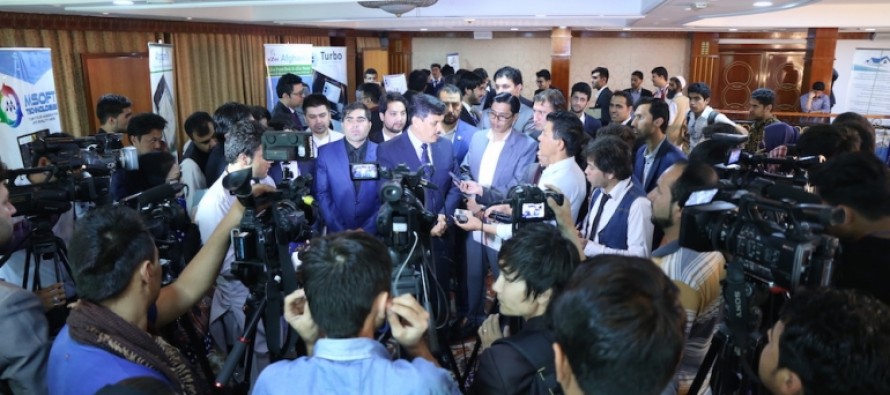 Providing innovating technology solutions for Afghanistan, 12 technology startups have successfully completed an 8-month incubation program offered by Ibtikaar, a technology startup business incubator in Kabul.
A graduation ceremony for the graduates was held at Safi Landmark Hotel on May 14 in the presence of eminent speakers from government including Communications and IT Minister Abdul Razaq Wahidi, Advisor to the President, Dr. Mohammed Qayoumi. About 120 people, including leaders from the industry and civil society, attended the event.
"We should make a shift from a project-based approach to a program-based approach. Ibtikaar should transform into a country-wide national program to create a vibrant local market," said Wahidi. "The Ibtikaar program is a testimony of the concerted efforts of both the entrepreneurs and the team involved in driving the entire business incubation process," he added.
"The emergence of new technology companies in developing countries has a unique positive impact on their economic growth and development," said Dr. Qayoumi. "Innovation is the greatest source for information technology boom."
Omar Mansoor Ansari, President of TechNation, said: "Entrepreneurship is key to economic development, and programs such as Ibtikaar play a key role in strengthening entrepreneurship. In the past two years we have worked with the startups from ideation to creating a business plan, team building and incorporation."
Ibtikaar is led and managed by TechNation, an Afghan tech and incubator management firm, and intends to recruit startup companies, founders who have innovative business ideas and are passionate about creating their own IT startup companies.
---
---
Related Articles
Qurban Mohammad Haqjo, Head of the Afghan Chamber of Commerce and Industries (ACCI), announces his resignation. According to Khaama Press
According to China Customs, economic cooperation between China and Afghanistan between 2002 and 2009 has expanded ten-fold. The trade volume
President Ashraf Ghani has one again made pitch for Pakistan to invest in Afghanistan in an attempt to further strengthen