120 Afghan engineers complete seminar on construction survey methods & instruments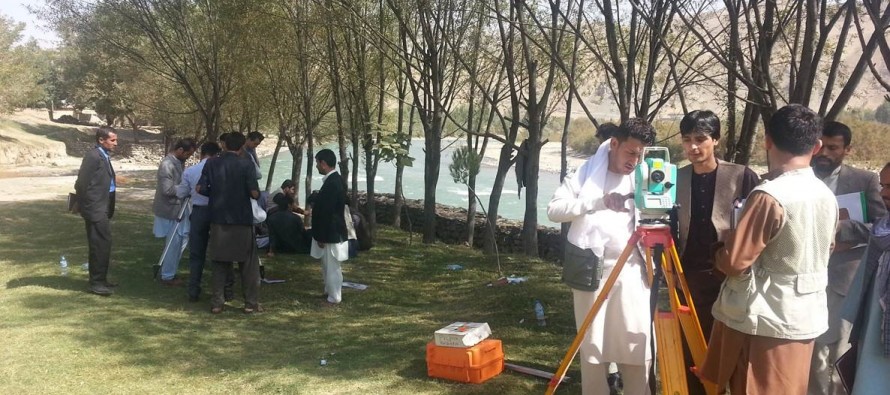 Following last year's training on topographical surveys, 120 engineers from technical departments from the six Northern provinces in Afghanistan participated in the seminar on construction survey methods and instruments.
The German funded program "Regional Infrastructure Development Fund" (RIDF) provided technical assistance and financed the training at a total cost of nearly AFN 1.5 million.
The participating engineers came from various line departments in Badakhshan, Baghlan, Balkh, Kunduz, Samangan and Takhar. The program  was tailored to the needs of the Afghan departments of economy, rural rehabilitation and development, education, public works, power and water supply as well as to the demands of river basin agencies and municipalities.
The topics ranged from data collection on a construction site to data analysis and map designs. During the training, participants had the opportunity to extensively use GPS devices and other survey devices such as total stations. The training was mainly dedicated to practical exercises, data collection and analysis.
Participants are now expected to apply the newly acquired knowledge in local infrastructure projects.
The courses are part of a joint program funded by the German government's project Regional Capacity Development (RCD) implemented by Deutsche Gesellschaft für Internationale Zusammenarbeit (GIZ) GmbH, and the Regional Infrastructure Development Fund (RIDF), funded through KfW Development Bank and implemented by Joint Venture Grontmij-GOPA-INTEGRATION in partnership with Afghan ministries and provincial institutions. Both RCD and RIDF are examples of German and Afghan partners working together successfully and collaboration among several organizations implementing German development cooperation programs.
---
---
Related Articles
The United States Agency for International Development (USAID) and Afghanistan's Ministry of Interior (MoI) initiatied a partnership through the signing
The project of the construction of a 15-km long water canal was launched in Tirinkot city, capital of central Uruzgan
Afghanistan is repeatedly pinched as the west tightens its sanctions against Iran. Afghani currency has dropped to its lowest value