120 Afghan engineers enhance their skills for designing infrastructure projects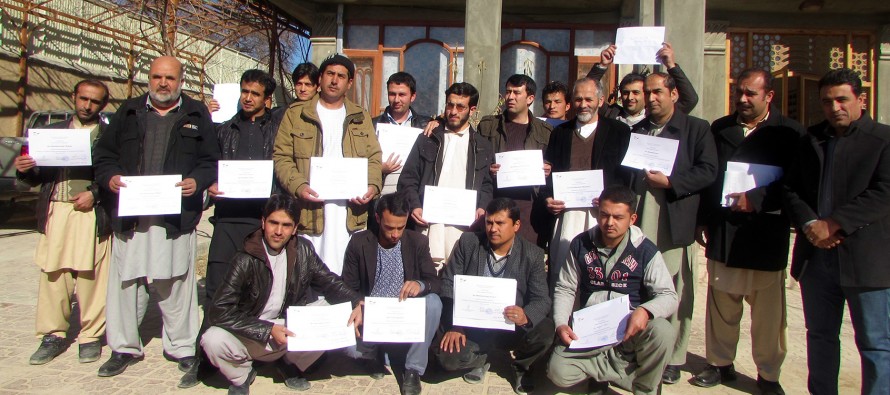 More than 120 engineers from six northern Afghan provinces completed a German-funded course to enhance their drawing and designing skills for infrastructure projects.
The engineers are now able to read and use building codes in all infrastructure areas. Their deepened knowledge will improve the execution of various infrastructure projects in Afghanistan.
The German government provided technical support and financed training at a cost of AFN 1.5 million.
The course was designed for engineers who have experience and knowledge in engineering and construction works already. The participants came from various line departments in Badakhshan, Baghlan, Balkh, Kunduz, Samangan and Takhar provinces.
During training, they were familiarized with design documents recommended by Afghan ministries. A participant from Pol-e Khomri explained: "Thanks to this course, I am now much more familiar with design principles in line with our government's technical requirements" The syllabus was tailored to meet the needs of the departments of Economy, Rural Rehabilitation and Development, Education, Public Works, Agriculture, Energy and Water Supply, and the River Basin Agencies.
However, the 120 engineers were not only introduced to different theoretical concepts; they were also offered practical, hands-on exercises. They worked in groups and discussed government design standards for roads and school buildings. In a second step they had to work out which parts met their requirements and which elements needed adjustment due to local conditions. During the exercises, participants refreshed and enhanced their ability to read and interpret infrastructure drawings and designs. These hand-on experiences also increased the engineers' understanding for common problems in infrastructure works and how to address them.
In addition, the engineers discussed safety issues at construction sites. Their awareness for the need to consider threats such as fire or earthquakes in their plans has increased.
The RIDF programme is funded by the German Federal Ministry for Economic Cooperation and Development (BMZ) through KfW Development Bank and contracted to the joint venture of Grontmij‐GOPA‐INTEGRATION for rolling out the programme. RIDF allows financial resource allocation by the respective Provincial Development Committees on provincial level, realizing proposals of their provincial line departments.
​
---
---
Related Articles
Iranian government has asserted that Afghan-Iran trade value stands at USD 4bn per annum, a figure that Afghan officials have
Pakistan has decided to open its land routes for transit trade as per an international agreement signed in December in
The central bank, Da Afghanistan Bank (DAB), has announced to inject USD 200-USD 300 million into the market in a