13 Afghan teachers graduate from SCA Teachers Educators Master Program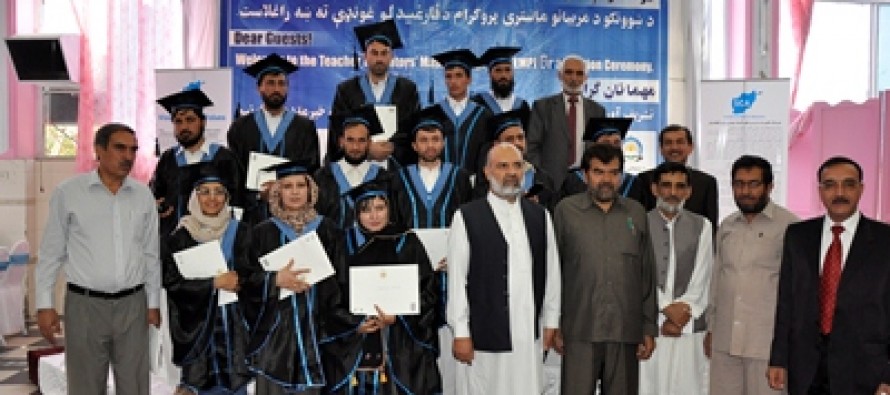 The first batch consisting 13 teachers including 4 females graduated from the Swedish Karlstad University. They were pursuing their Master Degree studies under the Swedish Committee for
Afghanistan's Teachers Educators Master Programme (TEMP).
TEMP is a Master level study program for teacher educators in education and didactics provided by Karlstad University of Sweden. It takes place in Kabul at the national academy of teacher education department. It is financed by the Swedish International Development Cooperation Agency (Sida) and facilitated by the Swedish Committee for Afghanistan.
During the graduation ceremony which was held in Kabul the graduated teachers awarded degrees. The graduation ceremony was attended by the Deputy Minister Mohammad Mohaqiq, Director teachers training academy Abdul Haq Rahmati and other officials of the Ministry of Education.
The graduation ceremony was addressed by the deputy minister Mohammad Mohaqiq, Director teachers training academy Abdul Haq Rahmati, TEMP Programme Coordinators Dr. Pia Karlsson, Dr. Amir
Mansory, Director SCA Policy and Quality Assurance (PQA) department Zemari Saqib and Mohammad Amir Mansori of TEMP.
The first intake of TEMP project was comprised of 13 male and 5 female that 90 percent of them were from Teacher Training Colleges of the provinces and the rest were from those NGOs which are directly involved in the educational affairs of the country. The graduated teachers hails from different provinces including Helmand, Maidan Wardak, Urozgan, Parwan, Nangarhar, Kabul, Ghazni, Paktia, Nuristan,
Samangan, Logar and Khost provinces.
This programme aims to capacitate a cadre of teacher educators to design, implement and evaluate relevant and adequate teacher training programs, which consider the social, cultural and economic context of Afghanistan. The entire duration of TEMP project is April 2011 to December 2014. It has 3 intakes for the master program with maximum 30 participants in each intake. They are offered a MA Program of either 60 or 120 ECTS (credit points).
Similarly 50 applicants including 10 female teachers passed TEMP's third intake entry test and the preparatory phase of TEMP –III started on February 10th and continued till the end of June this year.
---
---
Related Articles
The Afghanistan Chamber of Commerce and Industries (ACCI) has voiced their concerns over the separation of the industry sector from
A power transmission line, with a capacity of 4.6MW, was officially inaugurated in Deh Sabz district of Kabul on Saturday.
Thousands of fruit trees in different areas of Khak-e-Jabar district of Kabul province has been afflicted with agricultural pests. Residents