14 Afghan students complete training on mining in Germany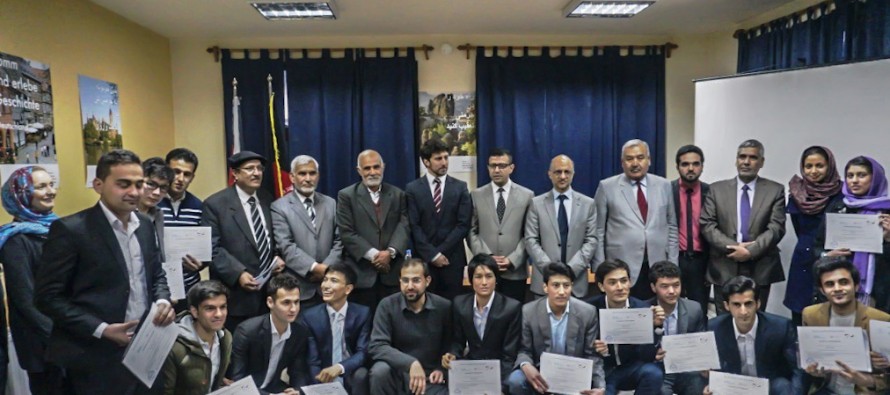 As part of a series of training measures run by Germany's program for academic mining education in Afghanistan (AMEA), 14 highly qualified Bachelor candidates returned from a two-month study program at the Bergakademie technical university at Freiberg in Germany.
They were welcomed back to Afghanistan by representatives of the German Embassy in Kabul and ministers from the Afghan ministries of Mines and Petroleum (MoMP) and Higher Education (MoHE). The mining academics were also issued certificates for participating in the course.
"You well-educated and enthusiastic students are the most valuable resource of this country. You are also the key to helping access what is perhaps the second most valuable resource of Afghanistan, its mineral riches. I call upon you to put your skills into the service of your country", said Mr. Christian Hannemann, Counsellor for Economic Affairs at the German Embassy in Kabul, during his opening speech at the ceremony to welcome back the 14 scholars from Germany. The students are from Kabul University's Faculty of Geosciences and from Kabul Polytechnic University's Faculty of Geology and Mining.
"We are seriously lacking the skills needed in the mining sector associated with the economics of the industry, marketing, legal and regulatory issues, contract management, safety issues or good governance" added Mr. Ahmad Javid Sadaat, Deputy Minister of the MoMP.
The training program for the students was introduced after the MoMP, the Afghan Geological Survey (AGS) and the private sector had requested it. The mining sector holds great potential for sustainable economic development as an essential source of revenue for Afghanistan.
For the country to gain proper ownership of the mining sector, graduates need more practical experience and international know-how relevant to the industry and administration. Prof. Dr. Babury, Acting Minister of the MoHE, pointed out that "Afghanistan needs to improve its human capital through post-graduate studies or short term training."
During their semester break, the selected candidates were able to attend two months of practical training in subjects like mining economics, mining law and administration, safety, international marketing, CAD mining planning, large scale open pit coal mining, small scale mining, remote sensing and geological mapping. The students also took part in field trips to active mining sites for coal, uranium or lignite deposits and to processing plants to help improve their skills. Currently, 15 professors and lecturers from four provinces and staff from the MoMP are also pursuing a two-year master degree course in Germany before resuming their previous posts.
Funded by the German Federal Foreign Office as part of Afghan-German Cooperation, AMEA is implemented by Deutsche Gesellschaft für Internationale Zusammenarbeit (GIZ) GmbH and DAAD (German Academic Exchange Service) through the MoHE and in close collaboration with the MoMP. The programme helps universities modernise existing study programmes, with an emphasis on practical training and academic exchange with the goal of making Afghanistan less dependent on foreign expertise.
---
---
Related Articles
In the first six months of the current fiscal year, Afghanistan has exported more than 6,000 tons of potatoes and
In retaliation to the collection of toll from traders at the entrance of various provinces by the Municipality, representatives of
Afghan Presidential candidates rolled out their plans on their first campaign day that kicked off on 04 February 2014. Economic