150 Afghan engineers complete training in topography survey skills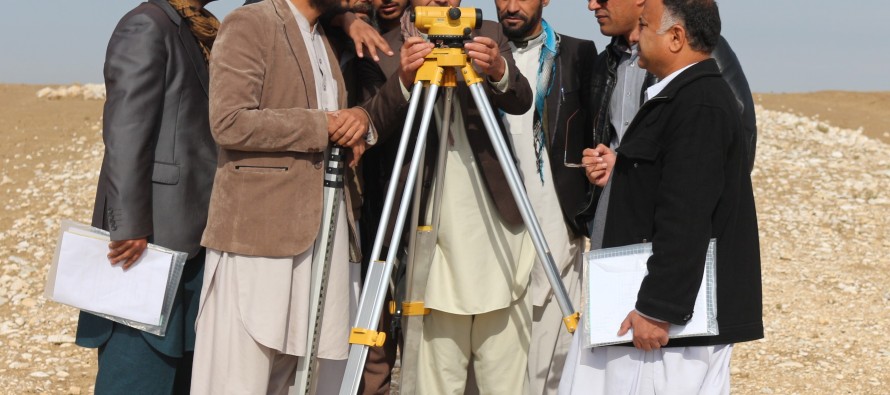 More than 150 engineering specialists from various line departments in six northern provinces of Afghanistan completed trainings on using topographical survey instruments.
Costing nearly 1.5mn AFN, the trainings were funded by Germany through its program fro Regional Infrastructure Development Fund (RIDF).
The engineers taking part in the topographical survey training came from various line departments in Badakhshan, Baghlan, Balkh, Kunduz, Samangan and Takhar. The syllabus was tailored to the needs of the departments of economy, rural rehabilitation and development, education, public works, power and water supply, and to the demands of river basin agencies and municipalities.
During training, participants used topographical survey instruments commonly used in infrastructure projects, such as GPS, theodolite and levelling systems. The engineers also learned how to enter data into computers and then analyze it. By being able to practice the exercises on an actual construction site, they learned how to better understand the data collected on the spot, both technically and practically.
Apart from data collection and analyses, participants discussed questions of safety on construction sites for a safer working environment.
After completing their training in Mazar-e-Sharif, one participant from Kunduz said, "In this course I greatly improved my skills in how to use survey instruments. What is even more important, I now feel I understand and can interpret the data I collect. This is crucial for proper management of infrastructure projects. I look forward to applying my knowledge at work."
The courses are part of a joint program by the German government's Regional Capacity Development program (RCD) implemented by Deutsche Gesellschaft für Internationale Zusammenarbeit (GIZ) GmbH, and the Regional Infrastructure Development Fund (RIDF), funded through KfW Development Bank and implemented by Joint Venture Grontmij-GOPA-INTEGRATION, in partnership with Afghan ministries and provincial institutions. Both RCD and RIDF are examples of German and Afghan partners working together successfully and collaboration among several organisations implementing German development cooperation programs.
---
---
Related Articles
Officials of the Agriculture Department in Herat province have reported that grape production has declined by 30%. The severe winter
Afghanistan's domestic revenue has increased by 18bn AFN from last year, announced officials of the Ministry of Finance. " The
The Afghanistan Investment Support Agency (AISA) head, Mohammad Qurban Haqjo, highlighted the major issues facing the private sector and called