15,000 residents from development projects in Badakhshan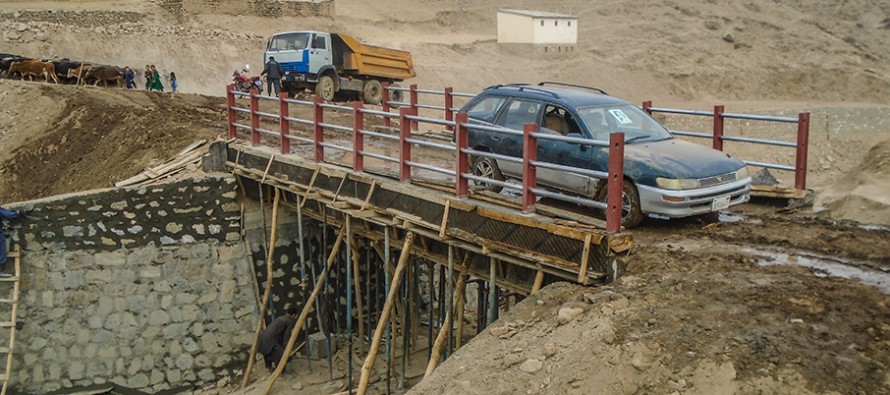 Three infrastructure projects in the districts Yaftal-e Payan, Darayem and Argo of Badakhshan were completed.
Funded by the Afghan-German Cooperation's program Regional Capacity Development (RCD), these projects include the construction of a bridge, a protection wall as well as the rehabilitation of an irrigation canal.
The three projects were competed at a total cost of over AFN 5 million. More than 15,000 Afghans will benefit from these projects.
"There was a dangerous valley between the residential houses. During the rainy season, floods were seriously affecting the safety of these houses", the head of the local Community Development Council Abdul Basir said.
He added that 4,000 residents will now benefit from the protection wall in Yaftal-e Payan.
In Khoja Eshtul, it was extremely difficult to access the provincial capital, schools and health centers, especially when floods occurred. The newly constructed bridge allows 3,000 people to cross the river and thus significantly enhances socio-economic conditions.
Now, locals can sell their products elsewhere and receive medical treatment.
Kham-e Mughal in the district Darayem counts about 8,000 residents. Most of them are farmers, depending on agriculture and good harvests. However, the old canal did not supply enough water to irrigate their lands though.
The rehabilitation of this canal will contribute to increase the water supply of agricultural land.
"Agriculture is the main occupation of the people and their livelihood depends on it. Now, the irrigation canal's capacity meets farmer's needs, offering more opportunities to increase agricultural output", a local elder of the village said.
All three projects were selected after public hearing events which Badakhshan's Provincial Council conducted with citizens. These meetings gave residents the opportunity to raise their main concerns and make recommendations.
Consequently , the provincial stakeholders selected the most urgent projects and were supported by the Afghan-German Cooperation implementing these.
On behalf of the German Federal Ministry of Economic Cooperation and Development (BMZ), the Deutsche Gesellschaft für Internationale Zusammenarbeit has implemented the Regional Capacity Development (RCD) program since 2010.
RCD aims at enabling Afghan provincial and district administrations to carry out administrative tasks independently and to provide public services adequately. Thus, so far, RCD has organised about 700 professional or job-specific training courses for more than 37,000 public servants, government employees and provincial council members. To increase the population's trust in local administration bodies, the project has also organized 345 public awareness events on local government activities that benefitted an approximate total of 50,000 citizens.
---
---
Related Articles
According to a latest study by the Integrity Watch Afghanistan (IWA), Afghanistan's mining contracts lack transparency and majority of the
Governor Gul Agha Sherzai, Indpendent Directorate of Local Governance (IDLG) and other officials laid the foundation stone of the governor's
A series of rockfalls over the highway between Kabul city and eastern Nangarhar province have obstructed the road. The incidents