170 women acquire new skills in Badakhshan for work and business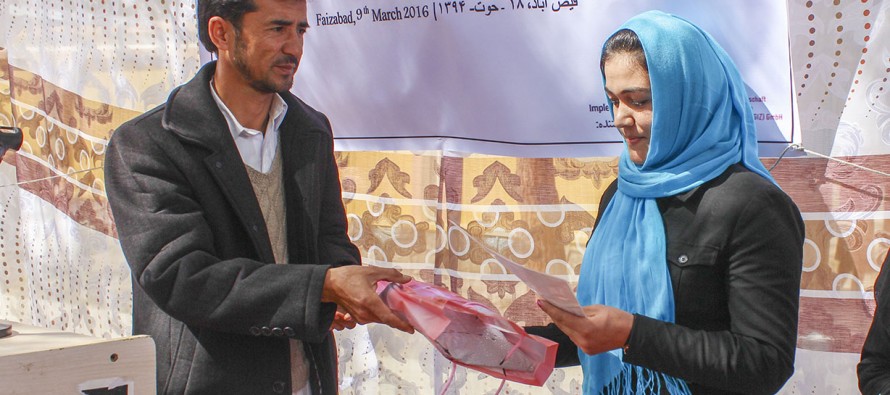 Around 170 women completed their training in English, computer skills and food processing for small businesses on March 8th.
With their new skills, they are now better qualified for positions in government, non-government organizations and commercial businesses. The classes were open to all women interested in participating and gaining more knowledge of these important skills for work and their own business.
Speaking at the graduation ceremony, Badakhshan's Governor Ahmad Faisal Bigzad said, "Every developed society needs the participation of women in business and governmental institutions. With more women in the workforce, their role in society, business and politics is more accepted, helping them to fulfil their responsibilities as equal members of society."
The classes were held in the Women's Training Centre in Badakhshan's capital Feyzabad and marked the first of a range of training programs for women in various subjects. Badakhshan's Department of Women Affairs (DoWA) and the Provincial Governor's Office (PGO) offered these courses as part of a first phase of training over 14 months. The German government funded the classes at a total cost of over ANF 2.7 million.
One of the participants of the food processing class spoke on behalf of fellow classmates when she explained, "We were all eager to improve our products but unfamiliar with the standard processes. Now, we are able to offer the best products available on the local market."
The second phase of classes is set to start soon for six months. Again, women are welcome to apply for the courses. For the second phase, food processing classes will be replaced by tailoring.
Since 2001, women and men have been afforded constitutional equal rights in Afghanistan, offering new opportunities for women. Germany's program for regional capacity development (RCD) contributes to gender equality through various activities for women and girls. New women's training centres, for example, help women empower themselves in various aspects of society in training sessions specific to various businesses and sectors.
As part of the German Cooperation with Afghanistan, RCD is implemented by Deutsche Gesellschaft für Internationale Zusammenarbeit (GIZ) GmbH. RCD supports the development priorities of the Afghan partners in the provinces and districts in six northern provinces in Afghanistan while providing training and coaching for civil servants. With its broad range of activities, RCD aims to increase Afghan ownership of the development process, strengthen Afghan state institutions in the provinces and promote transparency and inclusiveness.
---
---
Related Articles
Afghanistan participated in DOMOTEX Hannover, one of the most professionally organized trade shows in Germany, dedicated exclusively to the architectural
Afghanistan and Pakistan have agreed to further expand trade between the two nations and enhance bilateral trade from USD 2.4bn
Pakistan's Commerce Minister Khurram Dastagir Khan during his recent visit to Kabul brought up the issue of opening more trade