1st batch of Afghan students graduate from National Agricultural Sciences & Technology University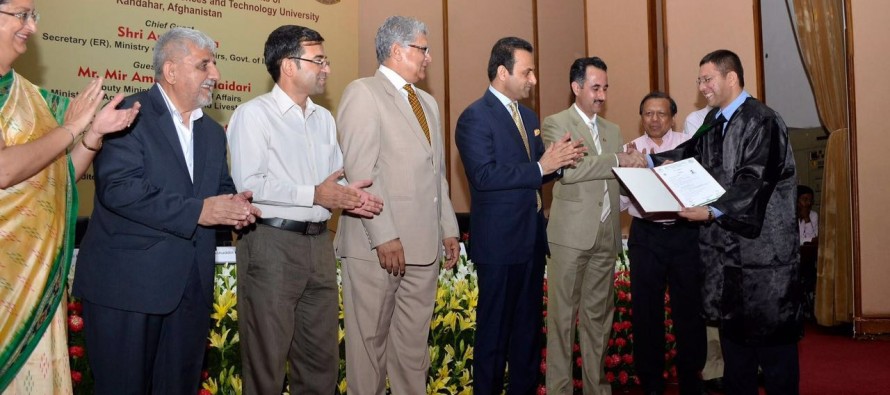 The first batch of 21 students of ANASTU were awarded M.Sc. degrees on 6th June 2016 at the convocation/graduation ceremony held at Indian Agricultural Research Institute (IARI) in New Delhi. The Graduation Ceremony was attended from Indian side by   Amar Sinha, Secretary (Economic Relations), Ministry of External Affairs;  Dr. Trilochan Mahapatra, Secretary, Department. of Agricultural Research & Education & DG (ICAR);  M. Subbarayudu, Joint Secretary responsible for coordinating development cooperation with Afghanistan, and from Afghan side by   Mir Amanuddin Haidari, Deputy Minister for Agriculture & Technical Affairs;   Abdul Ali Shamsi, Deputy Governor of Kandaharand Prof. Abdul Rashid Hakimi, Acting Chancellor of ANASTU.
Speaking on the occasion,  Amar Sinha, appreciated IARI & DARE for their contribution and congratulated Afghan students on successful completion of their M.Sc. course. He said ANASTU is still a work in progress and hoped that graduating students will contribute to Afghanistan's agricultural revival.  Afghanistan like India is primarily an agricultural society and induction of technology in agricultural research and extension is very important.  India is committed to support Afghanistan in its efforts to improve agricultural sector and referred to the inauguration of India-Afghanistan Friendship Dam on 4th June 2016, which will provide irrigation to approx. 80,000 hectares of agricultural land.
Haidari thanked the Professors and other officials of IARI &DARE and said that it's a proud moment for him as he himself graduated from IARI in 1973.  Unfortunately, decades of war prevented Afghan youth from education in science & technology and other important domains. Being agrarian society, 85% of Afghan population directly or indirectly are involved in Agriculture. Preparing the next generation of agricultural scientist is, therefore, of utmost importance.  He thanked GoI for establishing the first agricultural sciences university (ANASTU) in Afghanistan and said that Indian development assistance in various field is now over US$ 2 billion.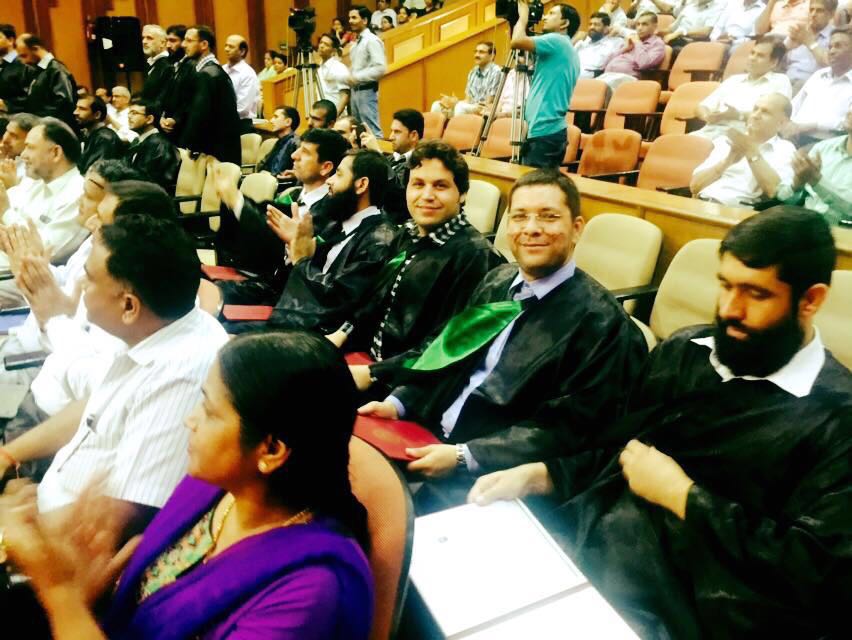 This batch of 21 students had commenced their M.Sc. Course in 2014 and following completion of course work in Delhi and Afghanistan had gone to Delhi for writing their thesis on 7th April 2016. During this thesis writing phase the candidates underwent data analysis, thesis writing and completion of academic requirement for award of M.Sc. Degree.  Second Batch of 20 students is likely to travel from Kandahar to Delhi on 30th June 2016 to undertake modular courses including Agronomy, Statistics and English for a period of eight months.
 ANASTU was set up with Government of India's financial and technical assistance and was inaugurated in February 2014 .In April2016, an MoU was signed between Indian Council of Agricultural Research (ICAR) and ANASTU.  The MoU will primarily focus cooperation in research, education and extension in agriculture & veterinary sciences; capacity building and academic exchange; exchange of scientists and technologists; exchange of germplasm and breeding material; exchange of scientific literature, information and methodology; exchange of scientific equipment; and programs of common interest as mutually agreed upon; Development and implementation of collaborative research projects as mutually agreed upon, etc.  In addition, India is also funding and assisting ANASTU in the Establishment of Laboratory equipped with Atomic Absorption Spectrophotometer (AAS). AAS is expected to reach Kandahar in end June while other equipment which include tractors etc.is expected by September, 2016.
---
---
Related Articles
Swedish Committee for Afghanistan during the year 2013 trained 448 persons with disabilities, including 110 women, in several markets oriented
A web designing company has launched the first business directory in Afghanistan, an initiative aimed to further facilitate contacts between
Afghani currency has witnessed a considerable decline lately in its value against several foreign currencies including US dollars. While this