21st TAPI summit being held in Kabul today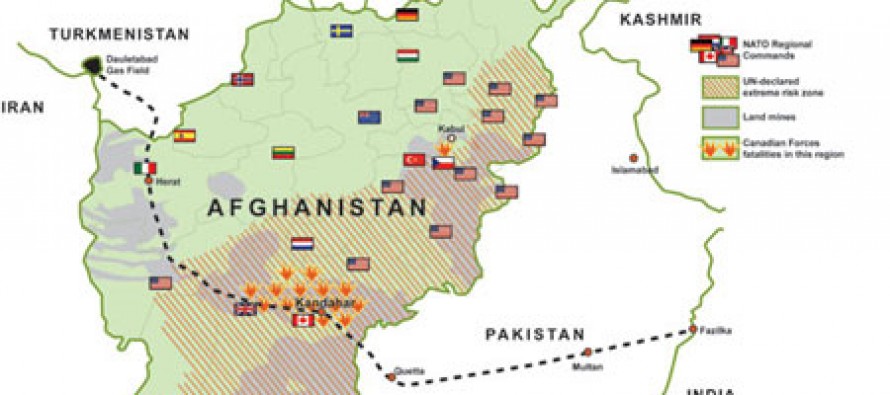 The 21st summit of Turkmenistan-Afghanistan-Pakistan-India (TAPI) gas pipeline is being held in Kabul today.
Representatives of the mines and petroleum ministry of the concerned nations will discuss the improvements achieved during the implementation of the project.
The pipeline will be operational in 2017. It has the capacity to carry 90mn standard cubic meters a day gas for a 30-year period, of which India and Pakistan would get 38 mmscmd each, and Afghanistan would get the remaining 14 mmscmd.
The 1735km gas pipeline is expected to stretch from the largest gas field in Turkmenistan, Galkynysh, through Afghanistan's provinces of Herat and Kandahar to Fazilka, area located between India and Pakistan.
The four nations' president signed the intergovernmental agreement of the TAPI project in 2010 in Ashgabat, Turkmenistan. The project is developed by the Asian Development Bank.
The project has been a topic of discussion from 1990 onwards.
The Transaction Advisory Services Agreement (TASA) on the project was signed in November 2013.
The pipeline will bring USD 450mn in revenue to Afghanistan and generate employment opportunities for thousands of youths.
---
---
Related Articles
Distribution of refined wheat seeds has kicked off in northeastern Badakhshan province in a bid to tackle poppy cultivation in
Afghan Agriculture Ministry has built 74 small greenhouses in three eastern province for women to help them eke out a
Directorate General of Economic Cooperation at the Ministry of Foreign Affairs, Wahidullah Waisi, spoke to the high-level forum on Linking