22 midwives graduated from community midwifery education program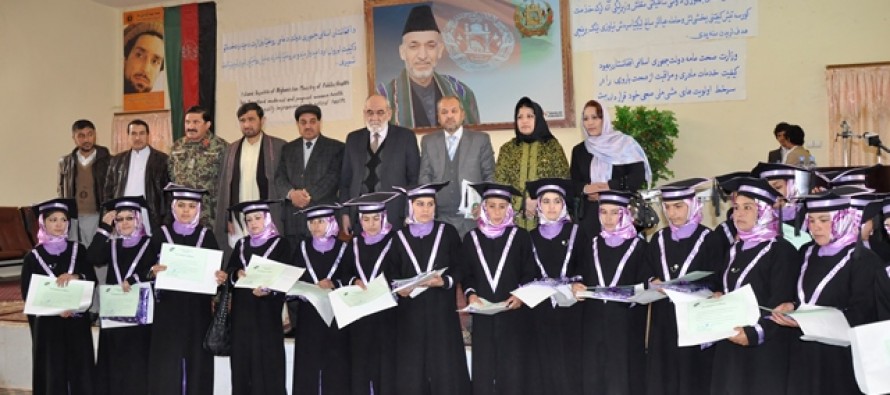 Upon completion of two years training, 22 midwives graduated from SCA Community Midwifery Education (CME) program in Sar-e-Pul province. The graduation of this fourth batch of midwives brought the figure to 84, trained by Swedish Committee for Afghanistan CME programme in this province.
These newly graduated midwives received their graduation degrees along with deployment letters during a ceremony held in Governor Office on Sunday 2nd of March 2013. They were provided two years training included both theoretical and practical studies. They practiced in Sar-e-Pul provincial hospital and Takzar district hospital.
The community midwifery training program is playing a vital role in increasing utilization of the reproductive health services in the province. Under Afghanistan's Community Midwifery Education (CME) program 46 midwives were trained through Sida funded training programme.
Showing confidence on the training offered to them by SCA health programme, Mrs. Nadia Hisam said that she choose to be a midwife only to serve her community. "I belong from Shahtoot area of Sayad in Sar-e-Pul, it's a remote district, where we have only one clinic, as now I graduated from CME program, I am able to provide healthcare facilities for the females," she said.
Among others, deputy governor Abdul Ghafoor "Dastyaar", Aziza Jalees Member of Parliament, Asadullah Khurram head of provincial council, Alhaj Dr. Aminullah "Altin" director public health, Nasima Arzoo director women affairs, Dr. Samar Gul and Dr. Kamila Sair from SCA health programme attended the graduation ceremony, which was held in Governor Office of Sar-e-Pul province. Deputy Governor Abdul Ghafoor "Dastyaar" addressing the ceremony appreciated SCA for establishment of healthcare centers and training midwives in the province and awarded appreciation letter to Dr. Samar Gul of SCA health programme.
CME is a standardized education for the midwives and selection criteria includes minimum of 10 years of school education and preferably mothers. Those who receive training are chosen by the community and willing to relocate for training. Upon completion of training they return to work in the community for at least five to six years following completion of training.
---
---
Related Articles
According to the Independent Joint Anti-Corruption Monitoring and Evaluation Committee (MEC), nearly 2mn AFN are payable by the government officials
Delivering a speech on "Economic Statecraft" at the Singapore Management University, US Secretary of State Hillary Clinton underscored the importance
India renewed its commitment to the execution of the Turkmenistan-Afghanistan-Pakistan-India (TAPI) gas pipeline project by 2017. President Pranab Mukherjee said