22,000 Citizens Benefit from Improved Infrastructure in Samangan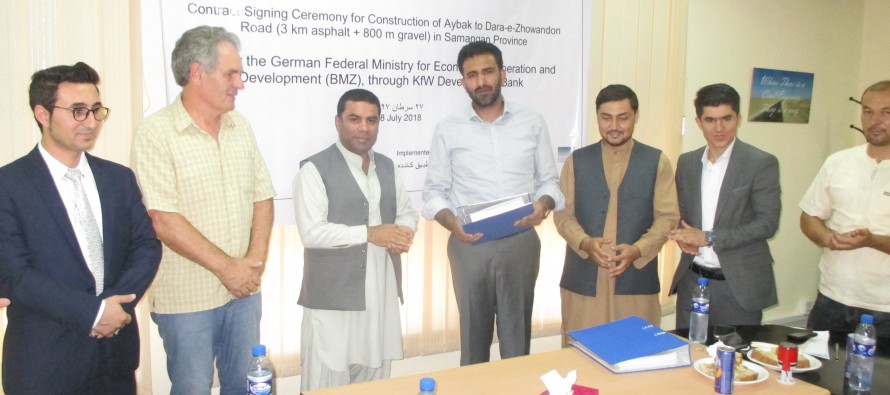 Officials of Samangan's Public Works Department, representing the respective ministry in the province, and the Afghan-German Cooperation signed a contract for improving important traffic connections on Wednesday.
Between the provincial capital Aybak and the village of Dara-e Zhowandon, three kilometres of asphalted road will be constructed. Further, a new 800-metres long gravel road will link Dara-e Zhowandon to the highway that leads to Mazar-e Sharif and Kabul. More than 22,000 citizens will benefit from these constructions. The Afghan-German Cooperation's Regional Infrastructure Development Fund (RIDF) finances the activity at a total cost of about AFN 90 million.
The head of Samangan's Public Works Department, Mr Zia Hamayon Ibrahimkhail, emphasised: "There would be no improvement in the area without proper infrastructure. The new road's high quality is clearly visible."
Economic and urban development heavily depend on infrastructure. Adequate roads can boost economic growth and therefore improve people's livelihoods. The new road will facilitate traffic between Aybak, the districts of Khuram-wa-Sarbagh and Roy-e Doab as well as surrounding villages. Citizens will have easy access to schools, markets and health centres in the area. At the same time, the asphalted road will reduce environmental pollution and vehicle maintenance costs.
The director of Samangan's Department of Economy stated: "We are thankful for the Afghan-German Cooperation's work in our province. The new road will solve many of our problems and reduce poverty in the area."
RIDF supported Samangan's Public Works Department in identifying the project. Construction works are expected to last 18 months. Throughout the project's implementation, RIDF will offer on-the-job training, coaching and mentoring sessions for the department's managers and engineers. These activities aim at improving the department's capacities for identifying, implementing and maintaining similar projects independently in the future.
The Regional Infrastructure Development Fund (RIDF) is being implemented by KfW Development Bank on behalf of the German Federal Ministry for Economic Cooperation and Development (BMZ). The programme aims at improving economic and social infrastructure in Northern Afghanistan while enabling provincial administrations to plan and implement development programmes independently in the future. For example, RIDF has funded about 160 kilometres of roads, 50 kilometres of irrigation canals and 11 protection dams against flooding or erosion since 2011. At the same time, the project has organised almost 900 job-specific seminars for more than 3,000 people facilitating the independent realisation of future infrastructure projects.
---
---
Related Articles
Despite joining the Convention of Transports Internationaux Routiers (International Road Transport)-TIR in 1983, Afghanistan has failed to implement the system.
The Ministry of Interior and the Ministry of Communication and Information Technology will begin the distribution process of electronic ID
Article was originally published on the World Bank Blog. Author: Shubham Chaudhuri Today, the World Bank Group released the first