24yr-old Afghan woman wins the Best Woman Entrepreneur Award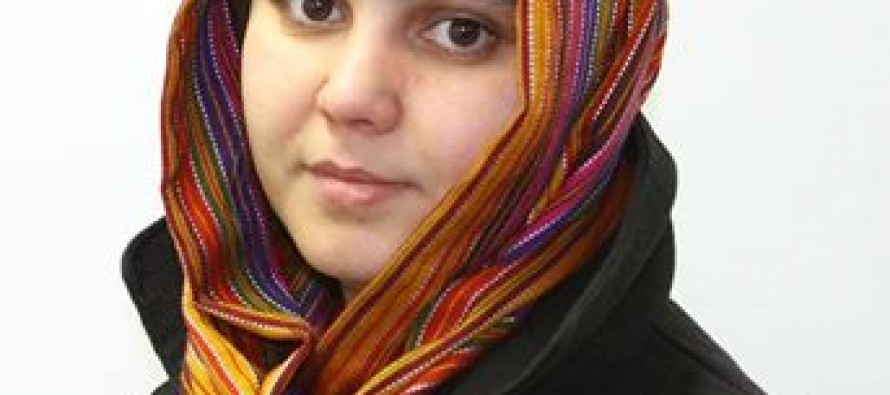 Samira Kitman, 24, won this year's "Best Woman Entrepreneur" award during a celebration for International Women's Day at the Women's Center of the American University of Afghanistan.
Samira is an artist and entrepreneur. She was chosen out of 307 female competitors across Afghanistan for her unique artistic skills and for using international markets to grow her calligraphy business.
She said that her childhood dream had come true.
"When I was eight years old, living as a refugee in Pakistan, I told my parents that I wanted to become a famous woman in the future in my home country of Afghanistan," she said. "They laughed and told me just to get an education." When the Taliban was overthrown, her family returned home along with tens of thousands of Afghans in 2002.
To pursue her passion for art and design, Samira studied at the Turquoise Mountain Institute. After graduating in 2010, she started her own business, "Meftah-e-Hunar" (The Key of Art), producing illuminated calligraphic artworks and providing employment for young women.
"My business so far has taught calligraphy and miniature painting to 90 young girls," said Samira.
In 2014, Turquoise Mountain secured a $650,000 commission to provide the interior artwork for a five-star hotel in Mecca, Saudi Arabia. A portion of the commission was awarded to Samira's business, which produced 600 original hand-painted calligraphy pieces as well as 8,000 prints for the 1,700 rooms of the Anjum Hotel, Mecca, earning her business over $65,000 in revenues and employing 30 women over six months.
Samira owes a lot of her success to USAID, the largest long-term supporter of the Turquoise Mountain Institute, which gave Samira the opportunity not only to learn her craft, but also to take her first steps to becoming an independent businesswoman. USAID's support to Turquoise Mountain's business mentoring activities allowed Samira to receive intensive guidance and support over the last five years, taking her from new graduate to leading entrepreneur.
Samira, through her drive, dedication and success, demonstrates the importance of the creation of a new generation of Afghan entrepreneurs, who act as catalysts of growth, improving the lives of hundreds of others.
---
---
Related Articles
Da Afghanistan Breshna Sherkat (DABS) is an independent and autonomous company established under The Corporation and Limited Liabilities Law of
The National Solidarity Program (NSP), which works within the framework of Afghanistan's Ministry of Rural Rehabilitation and Development (MRRD), has
President Ashraf Ghani scrapped two chromite extraction contracts during his surprise visit to Logar. The contracts were signed with two