30 civil servants trained in public financial management in Badakhshan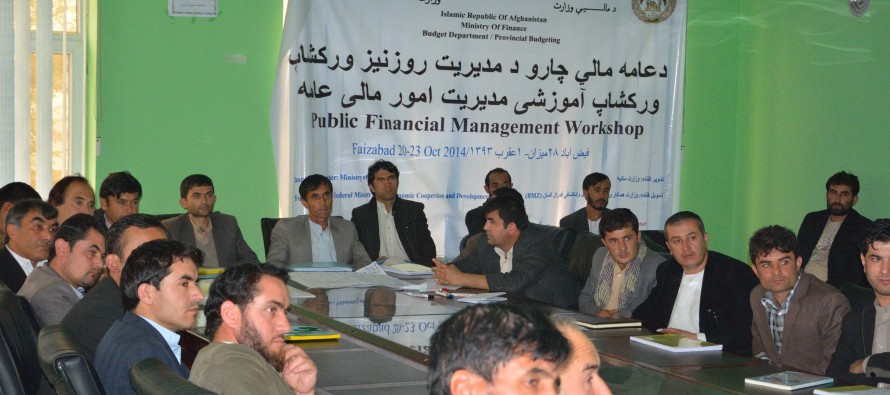 Thirty planning and finance officers from various line departments in the province of Badakhshan successfully completed four days of training in public financial management of development projects. Held in the provincial capital Faizabad and funded by the German Government, the main goal of the workshop was to advance the skills of the province's line departments in provincial budgeting processes. The course will be followed by a six-month mentoring programme for vaious departments to help develop proper project proposals for buying levitra online usa the national budget cycle. The training was conducted by the Afghan Ministry viagra in usa of Finance.
The civil servants participating in the courses represented a wide range of departments, including the Provincial Governor's Office (PGO), the Department of Economy (DoEc), the Department of Women's Affairs (DoWA), the Department of Finance (DoF), the Department of Agriculture (DAIL), the Department of Education (DoE), the Department of Rural Rehabilitation and Development (DRRD), the Provincial Council and the Municipality of Faizabad.
To ensure sustainable development planning, the province of Badakhshan has developed a "Provincial Development Plan" with priority projects in close consultation with all 28 districts. This should serve as a guiding instrument for all line departments in the provinces. The request for training measures in public finance management came from the DoEc and the DoF with a view to receiving more funds for sustainable projects from the national budget and strengthening budget cycle processes in the Afghan budgetary system. Due to declines in funds from donors on the provincial level, line departments need budget allocations from the central government.
The workshop was proposed and organized by the Department of Economy in close cooperation with the Badakhshan Provincial Development Committee (PDC) in Badakhshan. In July 2014 the PDC prioritised this request and received technical support from RCDF. It was financed by the German Federal Ministry for Economic Cooperation and Development (BMZ) at a cost of AFN 300,000.
As part of the Afghan-German Cooperation strategy, the RCDF is implemented by Deutsche Gesellschaft für Internationale Zusammenarbeit (GIZ) GmbH. The RCDF provides support for its Afghan partners' development priorities both on a provincial and a district level in six of Afghanistan's Northern provinces. At the same time, the RCDF provides training and coaching programmes for civil servants. With its broad range of activities, the RCDF aims to increase Afghan ownership of the development process, strengthen Afghan state institutions on the sub-national level and promote transparency and inclusiveness.
---
---
Related Articles
A new World Bank report finds that Afghanistan has shown improved health outcomes since 2003, with health services that have
A large crowd of Afghans signed up to use modern technology to pay their bills safely, as delighted Afghan and
The construction work of Kandahar cricket stadium was officially inaugurated on Monday with financial collaboration from the government of India.