300 Afghan girls receive business training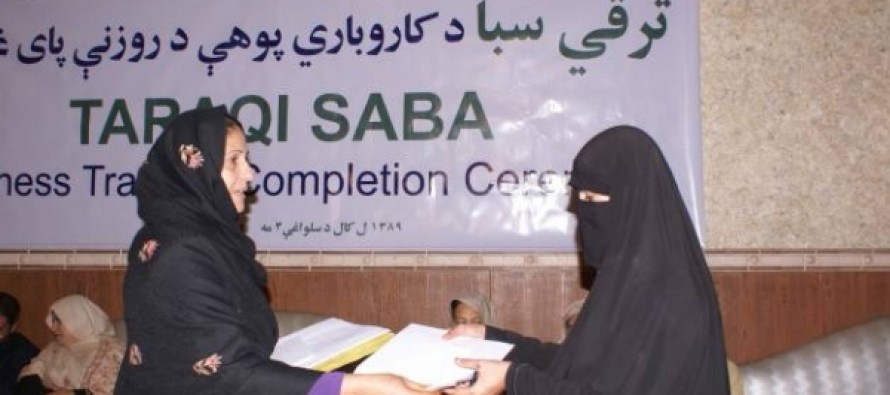 Today 303 young women from 15 high schools across Nangarhar, Laghman and Kunar provinces graduated from Taraqi Saba, or "Development for Tomorrow," a business skills training course. The three-month course provides high-school aged young women with the skills and knowledge necessary to operate sustainable businesses by teaching them basic business principles, such as finance, marketing and management. The course is funded by the United States Agency for International Development (USAID)'s Incentives Driving Economic Alternatives – North, East, West (IDEA-NEW) project.
"Now I know how to start and run a business and how to prepare a business plan. I have decided to start a business to support my family after graduation," said Zamarud, a student of Bibi Zainab Girls High School in Jalalabad.
U.S. and Afghan Government officials also attended the graduation ceremony.
"Taraqi Saba, business skills training, is a valuable program. It enables the women of the region, who constitute half of the population, to contribute actively to the economic development of the country" said Mohammad Hanif Gardiwal, Deputy Provincial Governor of Nangarhar.
There were some 300 graduates from Taraqi Saba last year as well. The impact of the training on young women's job prospects is undeniable: "When I was looking for a job, the interviewer asked me about my skills and I talked about what I learned from Taraqi Saba program— business planning, how to get capital, profit, marketing and prices. It was very good for me that I knew this because practical skills like these are important for office work too, not just for starting a business," says a 2012 graduate, Shabana.
Many of this year's students have expressed the desire to start their own tailoring, handicrafts or beekeeping businesses. In order to help these young women overcome the social and financial challenges that hinder their business opportunities, IDEA-NEW project staff works with students with strongest business plans to make sure that students' ideas can be turned into a viable business.
IDEA-NEW encourages the creation of on-farm and non-farm employment for men and women, while building the foundation of improved productive agriculture in poppy-susceptible locations of Afghanistan.
---
---
Related Articles
Today, Afghanistan and Turkmenistan representatives signed four economic cooperation agreements in the presence of Afghan President Mohammad Ashraf Ghani in
Fuel traders in Afghanistan say they are being frozen out of the import business by suppliers in Uzbekistan and Turkmenistan,
Afghanistan's first private insurance company, Insurance Corporation of Afghanistan (ICA), launches its travel insurance package which offers a wide range