300 Afghan Women Graduate From Civil Service Internship Program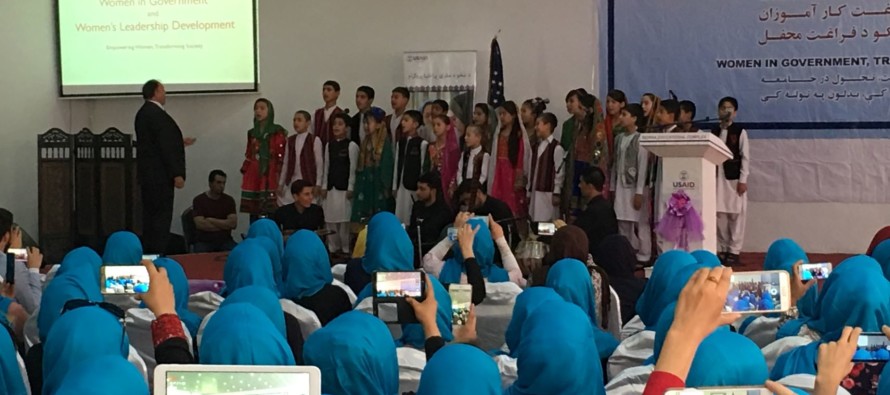 The U.S. Government's Women in Government (WIG) and Women's Leadership Development (WLD) projects, funded by the U.S. Agency for International Development (USAID), jointly hosted a graduation ceremony to celebrate the completion of a one-year civil service internship program by 300 female interns. The interns received government-issued certificates, equivalent to a year-long work experience, which will qualify them to apply for entry-level jobs in government.
Earlier this year, the Afghan government released the "Policy on Increasing Women's Participation in the Civil Service." This policy, developed in collaboration with WIG, establishes a two percent target to increase the number of women working in government by the end of 2018. Through the internship program, WIG and WLD are helping the government to meet its goal by providing targeted civil service and leadership trainings for female interns. WIG and WLD also facilitate on-the-job trainings in government offices for the interns.
Between April 2015 and August 2018, over 1,500 women graduated from the year-long WIG internship program, which includes three months of WLD's leadership training. The graduates are now applying for open positions in the civil service.
"Begin the change from yourself and family to prove yourselves. Once we bring change in our families, only then can we change a society"' said Sima Samar, Chairperson for Afghanistan Independent Human Rights Commission. "Your responsibility starts now after your graduation. Be ready for your other responsibilities", she added.
In addition to the graduation ceremony, WIG and WLD also hosted a networking event for interns and more than 35 representatives from the government, civil society, and private sector organizations. During the networking event, internship graduates met with potential employers to cultivate strong professional networking skills and facilitate job matchmaking among the organizations represented. The event acknowledged government agencies and civil society partners that provide support to WIG and WLD.
Together, WIG and WLD are training more than 3,000 Afghan women to become leaders in the government and civil society.
---
Related Articles
The Italian government has pledged to provide a grant of 5 million Euros to the National Solidarity Program (NSP) of
As many as 82 public service projects have been launched in Herat province by the Rural Rehabilitation and Development Department
The Prime Minister of India, Dr Manmohan Singh called the President of Islamic Republic of Afghanistan Hamid Karzai today to