300 Afghan women recognized for their women empowerment works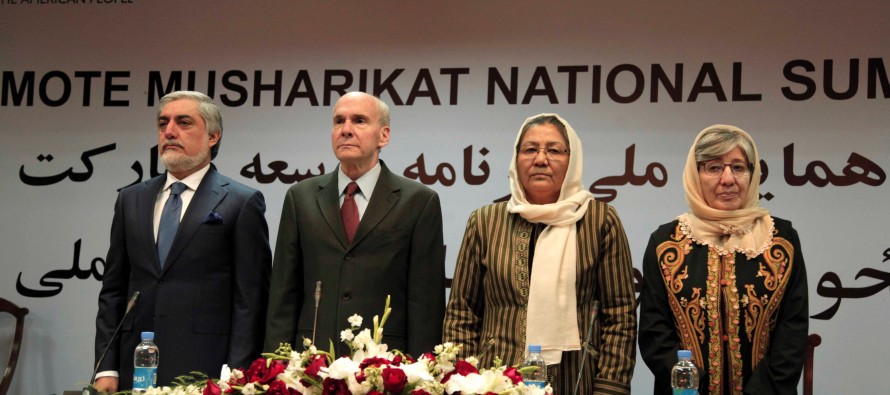 CEO Dr. Abdullah Abdullah and U.S. Ambassador to Afghanistan, P. Michael McKinley recognized 300 women civil society leaders for their work to empower the women of Afghanistan and encouraged the continuation of their efforts.
Speaking to the women at the Government Media and Information Center, CEO Dr. Abdullah said: "I am honored to have the opportunity to address so many brave, committed women from across Afghanistan.  I firmly believe that the work you are doing with Promote Musharikat is of critical importance for Afghanistan… empowering women leads to stronger families and communities and, ultimately, to a more equitable and peaceful country."
The National Summit is the culmination of a series of regional forums held from January through April 2016, during which women-focused civil society organizations and activists throughout Afghanistan collectively identified and prioritized the most critical issues impacting Afghan women.  The National Summit gathered more than 300 representatives from all 34 provinces to form inclusive coalitions and develop preliminary plans to address these challenges.  During the closing ceremony, the representatives introduced the first three Musharikat Issues-based Coalitions which will focus on the highest priority issues selected by Summit delegates:
Access to Education
Violence Against Women
Access to Economic Opportunity
Ambassador McKinley commended the women on their strong start. "The United States has always prioritized investment in Afghan women in every sector: health, economic growth, education, and agriculture.  However, there is a change in politics being pursued at this conference that is extraordinarily significant for contextualizing the U.S. commitment to women.  You have laid the foundation with your voice on how we can work together in the future with greater urgency and immediacy," said McKinley.
The Promote Musharikat project will work with more than 50 CSOs and 5,000 activists across all 34 provinces to prioritize and address the most critical issues which limit women's full participation in Afghan society.
Musharikat is part of the USAID Promote initiative, a joint commitment by the U.S. and Afghan governments to empower over 75,000 women across Afghanistan over the next five years.
---
---
Related Articles
A number of Kabul residents have complained about the escalating fuel prices before the arrival of the winter season. The
Agriculture officials in Herat reported that sericulture has witnessed an unprecedented growth. Faqir Ahmad Bayangar, Head of the agriculture department
The Afghanistan Center for Commercial Dispute Resolution (ACDR) was officially inaugurated on Tuesday in Kabul. The first center of its