4 schools, a teacher training center and a hospital inaugurated in Kunduz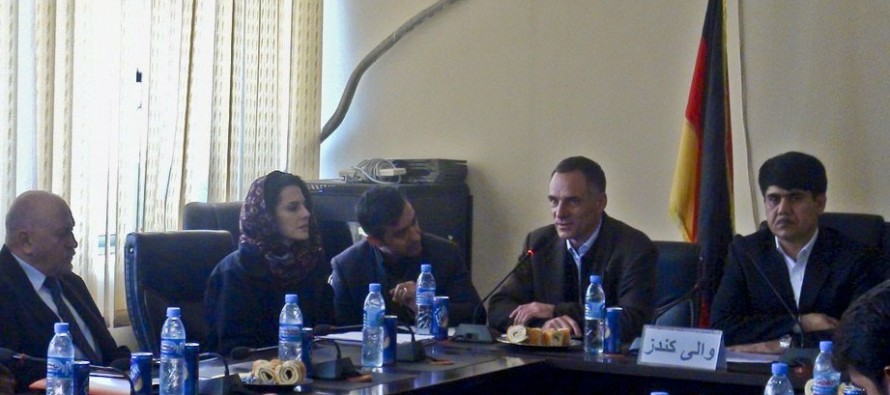 As part of its stabilization program for northern Afghanistan, the Afghan-German Cooperation handed over six newly constructed buildings to local government in several districts of Kunduz province on Sunday.
Four schools opened in Kunduz city and in the districts of Aliabad and Chardara. A new teacher training center was officially inaugurated in Qalai Zal district as well as a new drug addiction treatment hospital building in Kunduz city.
Funded by Germany, the facilities were established at a cost of 133.5mn AFN.
"Germany is keeping its promise to work in close partnership with Afghanistan – by providing the much-needed infrastructure for education and healthcare to provinces in the north, like here in Kunduz. As a friend and partner of the Afghan people we want to help improve living conditions for Afghans through projects like these that we are proud to handing over today," said Cornelius Zimmermann, Germany's Consul General to Afghanistan.
In Kunduz city, the Ghulam Rasool Shaheed School's new school building has 16 classrooms and can accommodate up to 1,350 students from 2,600 households in the surrounding area. 21 teachers also teach at the school that now offers safe and healthy learning conditions for pupils. Similarly, the new school building for Aliabad School has adequate space in its 16 classrooms for 1,950 students from 5,900 households and replaces the old building, which could not withstand severe weather conditions in the hot summers and cold winters. 41 teachers work in the school.
In Chardara, near Kunduz, the newly built Wazir School and Bassous Girls' School each have 12 classrooms. Wazir School offers space for 692 students to attend classes in various subjects, while Bassous Girls' School is open to 502 girls from 11 villages nearby. With a proper boundary wall to safeguard the female students, families have peace of mind that their daughters can get a basic education in a secure environment. Previously, classes for the girls were held outdoors and under tents.
Further afield in the province, the new Teacher Training Centre in Qalai Zal has 12 classrooms where male and female teachers can get the further training they need to teach in 49 villages throughout the district. Currently, 448 teachers are enrolled in the centre.
The new hospital for treating both common illnesses and drug addiction in Kunduz has 50 beds in 12 dormitories. With funding from Germany, it also comes equipped with all the furniture necessary for standard healthcare and treatment. All building projects were approved as priority development projects in the respective district development assemblies (DDA) in close cooperation with the districts' governing bodies.
Germany's stabilization program for northern Afghanistan helps districts strengthen their social infrastructure. Together with the Aga Khan Development Network as strategic partner and ACTED and Mercy Corps as implementing partner, the German Government works closely with various ministries, local government entities and departments to improve access for citizens to education and healthcare.
Since 2010, when the program was first launched, more than 60 schools and education facilities as well as three healthcare centers have been built in Kunduz province alone. In total, the program will have invested almost AFN 6.3 billion or €87 million between 2010 and 2017 in the northern provinces Badakhshan, Takhar, Kunduz and Baghlan. The Stabilization Program for Northern Afghanistan (SPNA) is funded by the German Federal Foreign Office, financed by KfW Development Bank and implemented by the Aga Khan Development Network, in partnership with ACTED and Mercy Corps.
---
---
Related Articles
Afghan Ministry of Industries and Commerce announced the launch of biometric system for business licenses under the General Directorate of
In the gray light of each cold dawn, the parents of 10-month-old Shoaib hold their own breath as they listen
Founder Institute – Kabul Chapter is hosting a Startup Pitch Bootcamp for Afghan entrepreneurs, innovators, and programmers on Tuesday July