40 tons of fruits flown from Kandahar to India through Afghan-India air corridor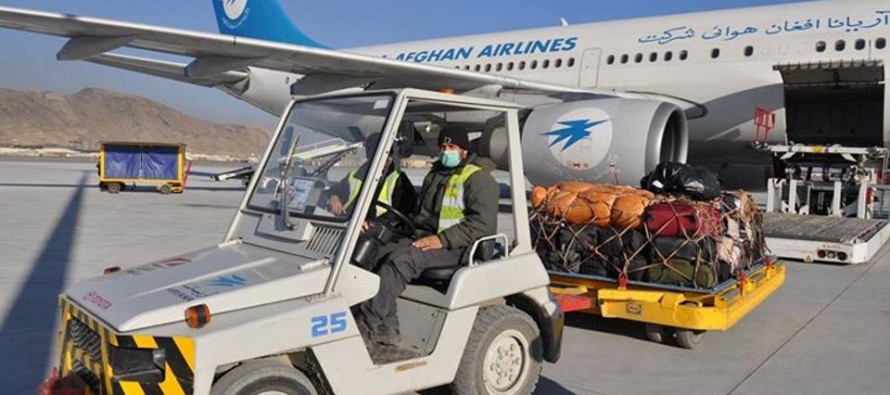 The fourth cargo plane flying from southern Kandahar province through the Afghanistan-India air corridor exported fresh and dried fruits weighing 40 tons to India.
According to a statement from the Office of the President, Afghanistan has sent 198 tons of fresh and dried fruit to India through the Afghanistan-India air corridor since June 18.
The process of transferring goods to India via the Air Corridor Program had to be halted due to some technical problems for some time, but the problems had been resolved and the process has continued a regular basis.
According to Kandahar officials, cargo flights through the air corridor would increase in future and traders would be provided with all needed facilities to improve business through the air corridor.
The cargo service, which bypasses Pakistan, aims to improve landlocked Afghanistan's links to markets abroad and boost the growth prospects of its agricultural and carpet industries.
"Our aim is to change Afghanistan to an exporter country," Afghan President Ashraf Ghani said at the inaugural ceremony on June 18. "As long as we are not an exporter country, then poverty and instability will not be eliminated."
---
---
Related Articles
In partnership with the Afghanistan National Disaster Management Authority (ANDMA), International Organization for Migration (IOM) and the Government of Japan
In Afghanistan, traditional dispute resolution (TDR) mechanisms remain popular among citizens due to their low cost, accessibility, and community trust
Ministries of Education & Higher Education strongly rejected the latest report on corruption in Afghanistan by the UN office on