402 Afghan women compete demand-driven skills training program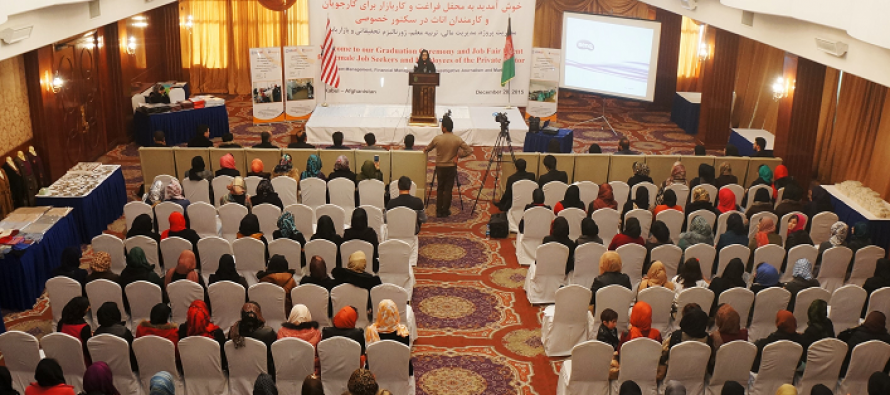 The Afghanistan Workforce Development Program celebrated the successful completion of a two-week demand-driven skills training program for 402 women in the cities of Kabul, Jalalabad, and Kandahar.
The U.S. Agency for International Development (USAID) funded the program to train mid-career/semi-professional job seekers and employees working in the private sector.
Classes were developed to teach skills that employers specifically requested after a labor market needs assessment was conducted by the Afghanistan Workforce Development Program (AWDP).
The short-term, merit-based skills training programs were taught in project management, financial management, investigative journalism, marketing and training of trainers as these were the skills needed most by employers for Afghanistan's labor market.
At the ceremony Ms. Fouzia Habibi, Deputy Minister of the Department of Women Affairs expressed her support of the program.
"Our sisters have been trained through this program in skills that are needed in the market," she said, "Their new skills can help them to directly get jobs and improve their lives, which helps Afghanistan."
Of the 402 women trained, 238 were placed into work or better work. Of those, 69 were job seekers who were placed in jobs and 169 were private sector employees who were promoted in their current jobs with at least a three percent salary increase, as the program requires. The rest who were trained are seeking work or promotions.
"When my friend told me about this program, I thought it was like other programs that only give us the training," said Ms. Nadia Baha, 40, who was unemployed but now works as an instructor at an Afghan women's education center. "But with this training, I had a different experience. After completing it, I attended two interviews and got this job."
Shahera Salehi was trained in financial accounting and then got a job with AFSAT, an internet service provider. "These programs have helped us to act with a high level of self-confidence," she said "When we are self-confident, we don't need to rely on foreigners to come build our country. We can do it ourselves."
Under this program, USAID has trained more 25,000 skilled workers in mid-level positions—36 percent of whom are women—in different market-based skills such as financial and project management, information communication and technology, sales and marketing, and construction.
Over 15,600 of those trained have been placed in jobs, or have received promotions in their current job that carried a salary increase of at least three percent.
AWDP is currently being implemented in five major cities across Afghanistan: Kabul, Herat, Mazar-e-Sharif, Jalalabad, and Kandahar.
The American people, through the U.S. Agency for International Development, have provided economic and humanitarian assistance worldwide for more than 50 years."
USAID on Facebook
USAID on Twitter
USAID on YouTube
USAID on Flickr
---
---
Related Articles
Afghan and German government representatives officially inaugurated newly built and equipped facilities for the Faculty of Public Policy and Administration
Officials of the Oil and Gas Enterprise of Afghanistan's Ministry of Commerce and Industries said that a number of Afghan
CPI Financial- In Dubai for a quarterly board meeting, Afghanistan International Bank (AIB) looks to extend maturing business ties with