448 Persons with disabilities graduated from SCA vocational trainings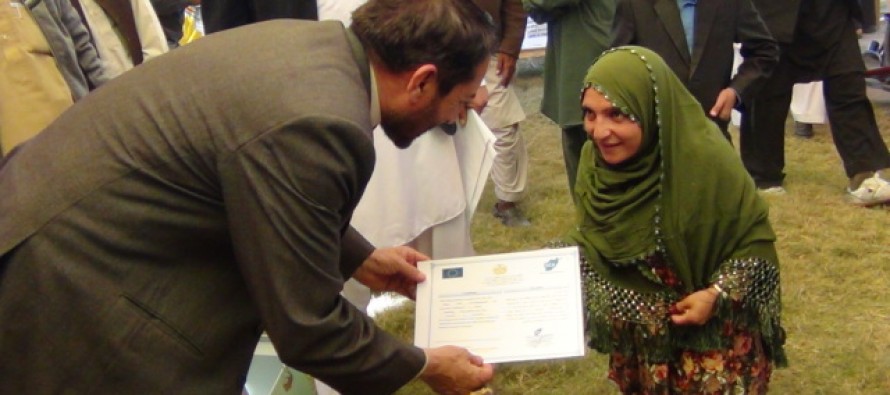 Swedish Committee for Afghanistan during the year 2013 trained 448 persons with disabilities, including 110 women, in several markets oriented vocational skills trainings in Nangarhar, Laghman, Kunar, Ghazni, Logar and Maidan Wardak Provinces.
The graduates received vocational skills training for a period of 8-10 months. The skills they were trained were selected through local based market demand studies. These included motor bike repairing, tailoring, beautician salon, child-set making, metal work, carpentry, embroidery, handicrafts, curtain making, mobile repairing, generator repairing, motor car wiring, motor engine repairing, tinsmith and electrical repair.
The trainings were part of the economic inclusion of young men and women with disabilities in vocational trainings services and employment opportunities project. The project was funded by the European Union and was implemented by the Rehabilitation of Afghans with Disabilities (RAD) Program of SCA. Toolkits were also provided to each graduate to support start-up of their businesses.
Graduation ceremonies were held in mid-December 2013. Provincial governors, deputy governors, directors of labors social affairs, martyrs and disabled (MoLSAMD), economy, representatives of disabled people's organizations, local and International NGOs, community elders participated in the ceremonies.
The RAD Programme was awarded with letters of appreciation by governors and directors of (MoLSAMD) for its valuable contribution to the economic empowerment of person with disabilities.
---
---
Related Articles
Afghanistan exported 1100 tons of talc to China for the first time from Mazar-e-Sharif through the Hairatan railroad. The goods
The Qatari businessmen, who were part of the delegation visiting Afghanistan, inked agreements with the housing and trade sectors of
The Ministry of Industry and Trade has announced the opening of the 200-acre Kotal e Takht Industrial Park in Maidan