5 provinces receive new science class packages worth over AFN 5 million from Germany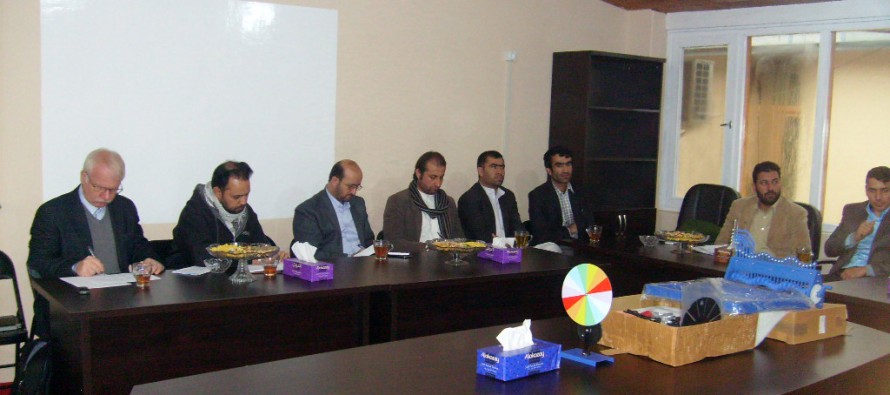 The Afghan Ministry of Education's Provincial Education Directorates (PEDs) of Balkh, Badakhshan, Takhar, Kunduz and Sar-e-Pul received new equipment for science lessons at schools. The total value of the packages adds up to over AFN 5 million, funded by the German government. The packages include essential laboratory materials for mathematics, chemistry, biology and physics classes.
At the handover ceremony, Mr. Mowlawi Abdul Aziz Azizi, head of Balkh PED, said, "Today I feel very grateful of GIZ cooperation to Provincial Education Directorate of Balkh. As promised, GIZ BEPA handed over very important science equipment to our science department that will help our science master trainers to promote the tradition of science practical teaching in schools. Once again I thanks GIZ BEPA for continues supports of education sector of Afghanistan". He was joined by Provincial Council representatives, other heads of PEDs, members of the district education departments (DEDs), school pupils and teachers.
The science equipment will be used in the PED science departments to help master trainers provide further training for science teachers. The equipment will be used for both theory and practical training, based on the year's planning. As Mr. Enayatullah, master trainer in Badakhshan at the PED, says, "Many science teachers have no experience in how to teach science subjects practically so that students could understand the concepts of lessen. Now we have the equipment and skills to go to all districts to train science teachers so they could teach science subjects both in theory and practice." At a later stage, the master trainers will do coaching and monitoring to ensure application of the science curriculum and to help with any issues teachers may have in their classes in schools.
In the past 10 years, the program has been working closely with the five PEDs in capacity building and strengthening science teacher training. Science experts, acting as consultants for the German government's program, have been training science class master trainers who can now train school teachers. Both the training for master trainers and school science teachers will continue with the support of German government's program to promote basic and secondary education in Afghanistan.
Active since 2005, BEPA is a joint program of the German Government with the Afghan Government and is implemented by the Deutsche Gesellschaft für Internationale Zusammenarbeit (GIZ) GmbH on behalf of the German Federal Ministry for Economic Cooperation and Development (BMZ) and the Swiss Development Cooperation (SDC). Together with the MoE in Kabul and the education departments in the provinces, BEPA aims at contributing to a sound foundation for teacher training in Afghanistan.
---
---
Related Articles
The Wolesi Jirga (House of Representatives) of Afghanistan has announced that Afghanistan has become a permanent member of the Parliamentary
Smart System becomes the 10th private company to offer postal services after receiving its license from the Afghanistan Postal Regulatory
On June 30th, 2013 a memorandum of understanding between the Ministry of Energy and Water (MEW) and the Afghan National