5 ton woolies to Afghan Children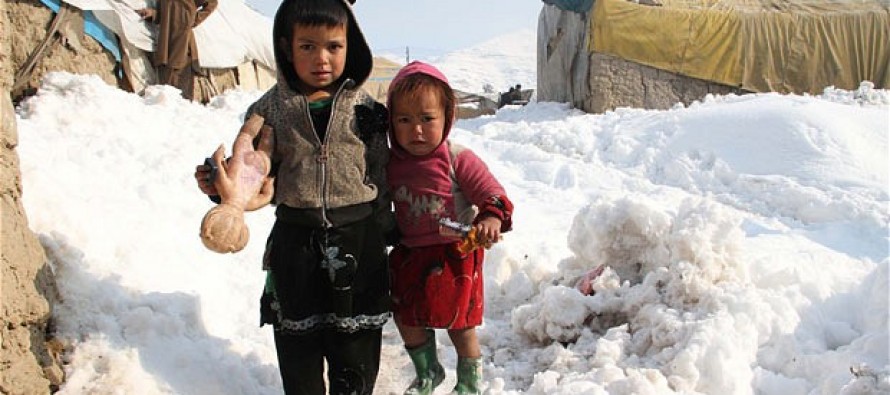 British Afghan Women's Society- Showing again that meaningful and efficient civilian assistance to a population hungry for peace is possible, a citizens group made up of air cargo companies, ground transport companies, and charitable organizations led by the British Afghan Women's Society delivered 5 tons of winter children's clothing and supplies to refugee camps in Afghanistan, last November of 2012.  At least 23 children under the age of five froze to death last winter in the camps in Kabul, where most families live in unheated tents.  The deaths sparked an international outcry over the failure of both governments and international aid organizations to perform basic aid functions in the most secure, most easily accessible part of the country.
As the deadline for the withdrawal of American troops approaches, an overwhelmingly youthful Afghan population seeks training, building materials, and job skills in order to build their lives and economy.
The project was named Deadra's Flight after the recently deceased wife of one of the organizers, Mr. Myron D. Stokes .  Warm baby hats, baby clothes, socks, mittens etc. were contributed by generous Londoners, the Afghan Diaspora, and others across the UK.  Approximately five tons of items were shipped across the globe through the generous donated services of the air cargo and ground transport companies Global HeavyLift Holdings Inc. of Bloomfield Hills, MI, Kalitta Air of Ypsilanti, MI, DHL-Great Britain, Fast Forward Freight, Belgium, and Aviapartner Belgium.  Transportation was coordinated by Mr. Stokes of Global HeavyLift Holdings.
IMAGE FOR DEADRA'S FLIGHT
It is estimated that about 35,000 people are living in makeshift camps in and around Kabul.  The vast majority of them are recent returnees or families fleeing the violence of the war throughout the country. In Kabul, their lives are harsh and plagued by hunger, sickness, and lack of basic necessities.  Winter brings the additional, often deadly, challenge of sub-freezing temperatures.  The camps, however, are a microcosm of the rest of the country, where, despite over $500 billion in US military expenditures over the last ten years and perhaps $20 billion in civilian assistance, Save the Children reports that 60% of Afghan children are chronically malnourished, and 30,000 die due to starvation every year.
And although Kabul is relatively secure, unemployment hovers at around 40%, and is even higher in rural provinces.  Major infrastructure projects such as basic, city-wide sewage and water sanitation projects, which could generate innumerable jobs, have not yet begun in earnest, even inKabul.
As US troop withdrawal nears, analysts point to the need to ensure that generations of Afghan youth are not left idle and without hope.  The projects Deadra's Flight, and Ismail's Flight, a similar project which preceeded it, put on display an example of how private citizens can coordinate logistics and assistance to reach the neediest with little or no waste or overhead.
On the ground in Afghanistan, DHSA, Development and Humanitarian Services for Afghanistan, provided critical support in getting the assistance to the most needy.  DHSA is an Afghan civil society organization, which are not part of the government, but rather consist of private Afghan citizens working to rebuild their country.
The distribution of the assistance was accomplished with the kind support and cooperation of the Ministry of Rural Rehabilitation and the Disaster Management Authority.  One Afghan official said: "This is a great example of good work led by the Afghan Diaspora just in time before winter.  We welcome this and want others to follow."
Second Phase of a Continuing Mission
A second phase of "Deadra's Flight", involves a plan to bring on a monthly or quarterly basis, depending on need, 3-5 Afghan children aboard USAF ICU Boeing C-17s out of Bagram Airbase with an ultimate destination of Luke AFB.  The latter base was chosen based on the positive response from the Phoenix medical community in the forming of a Pediatric Review Team that draws from area hospitalist professionals and private practice.
US authorities are being asked to permanently reserve bed space for the children on these extraordinarily well equipped medical aircraft flying 12 times weekly out of Bagram to Ramstein AFB in Germany then stateside.
"The Pediatric Review Team already has a measure of data for 3 children thus identified" said Global HeavyLift's Stokes, "and I'm requesting more comprehensive records with the intent to determine the level of urgency for US transport. We already know that Abdullah, diagnosed with hydro-encephalus, is in quite serious condition, and is one of the children we first identified through my colleague Najim Dost in September of last year.
"As can readily be determined from the global press releases sent out, we have been able to succeed in our relief strategies in a way established NGO's like Amnesty International and the UN World Food Programme have not in this region, and this is perhaps owing to the dangers of operating in a war zone of atypical volatility. Nevertheless, we have reached out to these organizations to advise that we stand ready to assist them in airlifting much needed relief goods to a people -particularly the children – who have suffered much.
"For us and our air/ground logistics team with Kalitta Air, DHL, BAWS and DHSA at its core, it is a continuing mission of mercy that will end when the need ends, and I am most appreciative that the Phoenix medical community has responded so positively, so quickly. Something we'll not soon forget, and should we continue to move this forward, all institutions and individuals involved will be appropriately acknowledged.  Indeed, I have already made Senate colleagues aware of the kind and expeditious response from the wonderful healthcare professionals of Arizona," Stokes said.
---
Related Articles
Thirty planning and finance officers from various line departments in the province of Badakhshan successfully completed four days of training
Ministry of Energy and Water reported on the reconstruction of water dams in various regions of Afghanistan, as concerns about
Eleven ministers who failed to spend more than 50% of their development budgets in 2011 are summoned once again by