52 welfare projects help over 17,000 families in Herat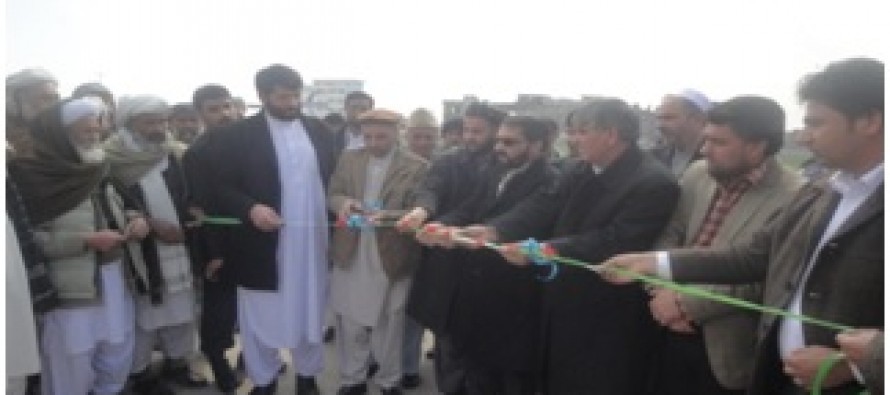 The National Solidarity Program (NSP) of the Ministry of Rural Rehabilitation and Development (MRRD)  has completed 52 utility projects in the Enjeel district of Herat province. These projects will help 17,315 families in various different villages of the district.
These projects include 6 schools, 14 community centers, 12 water supply networks, the construction of rural roads, retaining walls, irrigation canals, water streams and embankments.
Many government officials including Aseeluddin Jaami, the acting governor of Herat, Ghulam Faarooq Majroh and Khalil Ahmad Shahidzaad, two parliament members and Aqa Muhammad Siddqi, the head of the Rural Rehabilitation and Development department, were present at the official inauguration ceremony.
The projects were completed at a total cost of AFN 105,568,562 (1,842,061) with ten percent contribution of the public.
The National Solidarity Program is one of the most important programs of the Rural Rehabilitation and Development Ministry and has been extremely active in Herat province. It recently completed 17 other projects at a cost of AFN 41 million (715, 407) in the Guzrah district of Herat.
---
---
Related Articles
Haoliang Xu, United Nations Assistant Secretary General and UNDP Regional Director for South Asia and Pacific visited the SAARC Development
Afghan Ministry of Finance (MoF) has again warned about the prolonged elections process lowering down the country's internal revenue. According
At a press conference in Mazar-e-Sharif, Public Works Minister Najibullah Awzhan said work on a railroad between Balkh and Tajikistan