6464 – Telephone helpline available in Northern Afghanistan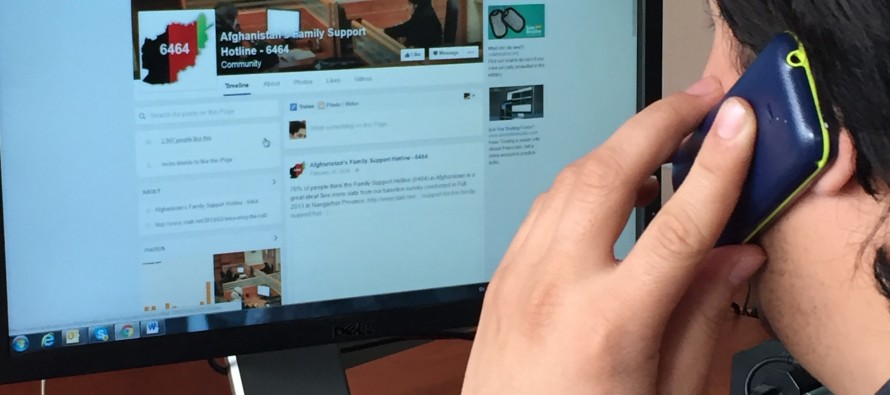 A telephone helpline has been made available in northern provinces of Afghanistan with financial collaboration from the Germany, Dutch and Finnish governments.
By calling 6464, Afghan men and would in Balkh, Badakhshan, Baghlan, Kunduz, Samangan and Takhar provinces can get information and counseling on legal, psychological and religious matters. The number is toll free and has been well received in southern and eastern parts of the country, where it has been operational since 2013 already.
The German as well as the Dutch and Finnish governments are funding the extension of the telephone helpline at a cost of about AFN 25 million.
Women and men, who experience violence or threats of violence, can get support from the helpline. They get legal advice on their rights and how to enforce them. However, attention is also paid to provide the callers with advice on how they can protect themselves and what options they have to improve their situation. Furthermore, they receive information on who would be available in their area to get face-to-face counseling.
The helpline is of special help to Afghan women who are mostly restricted in their movement and face problems. The service also benefits peopling living in rural areas who otherwise have to travel long distances to bigger cities for counseling and help on certain issues.
Atiqullah Atid, a gender focal point from Afghan-German cooperation, said, "In Afghanistan, there is a gap between the people's legal rights and their access to it. The telephone helpline helps to bridge this gap. This is especially true for women, because they are even more affected by a lack of access to justice than men. The mobile counseling service offers them a culturally appropriate way to learn about their rights and how they can make use of it."
The helpline started off in Afghanistan's eastern region in early 2013 and later expanded to the southern region. It is implemented by the non-governmental organization Afghanistan Capacity Development and Educational Organization (ACDEO). The service has received significant support from the population; more than 50,000 people have already made use of 6464.
The program for the promotion of the Rule of Law (RoL) has provided assistance for expanding the service to Afghanistan's northern provinces and expects about 20,000 incoming calls per year.
On behalf of the German Federal Ministry of Development (BMZ), the Gesellschaft für Internationale Zusammenarbeit (GIZ) GmbH has been working together with the Afghan Government to promote rule of law in Afghanistan. Since 2003, the project has been supporting the Ministry of Justice of Afghanistan in its efforts to ensure access to justice for all citizens. This is done through supporting better access to justice, as well as improving the professional capacity of justice sector staff. At the same time legal awareness of citizens is strengthened. Since 2012, the Kingdom of the Netherlands has supported activities by GIZ's RoL project in Kunduz province, since 2015 the Republic of Finland has supported activities to improve Justice for Women.
---
---
Related Articles
According to the provincial branch of the Afghanistan Chamber of Commerce & Industries (ACCI), up to 40,000 tons of grapes
Cooperative societies would distribute 152 tons of wheat seed and 456 tons of fertilizers to farmers in Herat this month.
Construction projects, funded by the World Bank at a total cost of 226 million AFN, are being implemented under the