70 MPs agree to summon ministers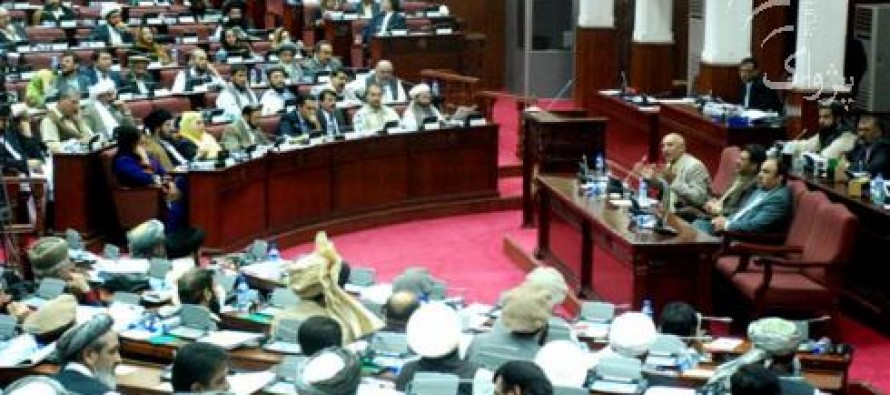 Seventy members of the Lower House of the Parliament or the Wlesi Jirga signed papers on Saturday for summoning nearly a dozen ministers for under-spending development funds for 2011.
The annual accounts of the ministries were discussed by 18 parliamentary commissions, which planned to summon the ministers who spent less than 50% of their development budgets.
The ministries included Defense, Interior Affairs, Commerce, Energy and Water, Education, Urban Development, Mines, Higher Education, Counternarcotic and Information and Culture.
Earlier this month, the Parliament has revised its earlier decision on the impeachment of 11 ministers and has decided to impeach 7 ministers.
"Four ministers who took up duties in the ministries in 2011 won't be impeached. But others will be impeached after the proper paperwork," Parliament Speaker Abdul Raouf Ibrahimi said.
The exempted ministries include Interior Affairs, Defense, Higher Education, and Urban Development Affairs.
Addressing Saturday's session, public representative from southern Kandahar Hamidzai Lalai said 70 legislators had so far signed the documents to summon the 11 ministers.
"We must decide on a date for the appearance of the ministers before the house or let off the ministers. The more we drag this case, the more people's allegations of corruption in parliament would be sustained," said Mr. Lalai.
Later, 20 members asked the Administrative Board in writing to include the issue of fixing the date for summoning the minister in today's agenda. Subsequently, Speaker Abdul Rauf Ibrahimi put the motion to vote.
Of the 125 MPs present, 44 raised green cards in support of and 33 red cards in opposition to the motion, with the rest staying neutral. The speaker announced the issue had been made part of the agenda and would be debated later on.
Speaker Abduk Rauf Ibrahimi said the house would debate on Monday the date of summoning the ministers.
---
---
Related Articles
The World Bank welcomes recommendations in the latest report by the Special Inspector General for Afghanistan Reconstruction (SIGAR) on the
The ceremony to declare Ghazni City as the Asian Capital of Islamic Culture and Civilization began on Saturday at 10:20am
By Cheryl Pellerin American Forces Press Service A high-tech mineral-mapping effort nearly complete in Afghanistan and the first of its