80% of Afghan-Pak transit issues resolved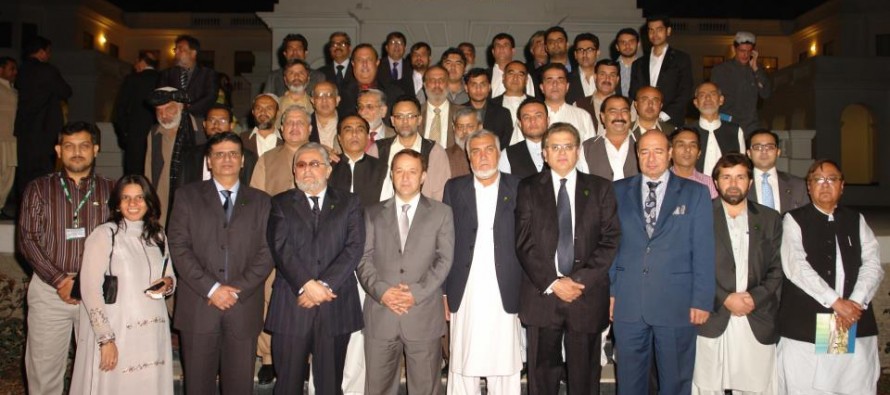 The Afghanistan-Pakistan Joint Chamber of Commerce and Industries (APJCCI) on its second annual meeting in Kabul conferred on ways to bring the two nations together and keep economic relations away from politics.
According to APJCCI's officials, 80% of transit problems between Afghanistan and Pakistan have resolved.
Trade relations between the two nations would always become a victim of political dents.
Co-president of APJCCI, Mohammad Zubair Motiwala, suggested using afghanis or rupees to help address some of the trade problems.
"Dollar-based transactions are a major problem for traders from both countries. I request both Afghan and Pakistan traders to use Afghani or Rupees, as I think they will be better off," said Motiwala.
Earlier this year the Pakistan-Afghanistan Joint Commission (JEC) had agreed to enhance the bilateral trade from USD 2.5 billion in 2013 to USD 5 billion by 2015.
According to data compiled by Pakistan Bureau of Statistics and State Bank of Pakistan, total bilateral trade in the first quarter of fiscal year 2013-2014 fell by 15% year-on-year, indicating that the trade target of USD 5 billion by 2015 could be unlikely to achieve.
On the other hand, Afghanistan's imports have increased. Imports from Afghanistan rose USD 0.2 billion fiscal year 2012 to USD 0.92 billion during the first quarter of the current fiscal year.
Pakistan officials have attributed the decline in Afghan-Pak bilateral trade to the rise in informal trade across the border. Pajhwok Afghan News (PAN) notes that a trade observer highlighted how Afghan markets are flooded with Pakistani textile products, but the same is not visible in official data.
Furthermore, Pakistan officials have also cited increase in Iran's exports to Afghanistan as one of the factors eating into the share of Pakistani exports in Afghanistan.
Deputy Minister of Commerce and Industries Muzamil Shinwari, who also attended the conference, said if the Afghanistan-Pakistan Transit Agreement (APTA) was properly executed, all transit problems would be addressed.
---
---
Related Articles
Hanan Shah Agha proudly calls himself a full-time motorbike mechanic. It is a marked step up from being unemployed and
This time last year, more than 400 excited youth filled the Preston Auditorium for the World Bank Group Youth Summit
The Afghanistan Investment Support Agency (AISA) has given a deadline of one month for 15 foreign companies to pay taxes