A Father Gave His Daughter a $200 Contract to Stay Off Facebook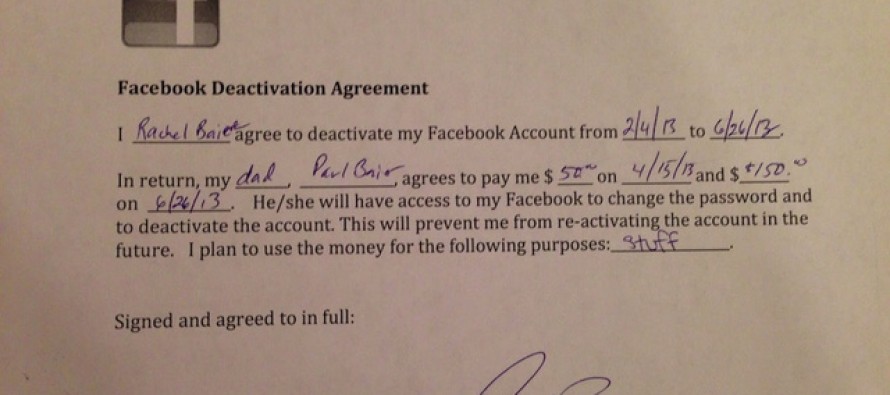 Casey Chan- Daily Dot
If your kid is spending too much time on Facebook, what should you do? Cut the Internet? Annoying for you. Restrict their access? Not realistic. Ground them? Haha. What about give them a signed contract that promises them 200 bucks if they stay off Facebook for five months? Sounds like a plan!
Paul Baier, a loving father, had his 14-year-old daughter, Rachel, sign a contract that requires her to not use Facebook from February 4, 2013 to June 26, 2013. The deal pays her $50 if she's successful until April and another $150 if she can avoid Facebook until June. The contract is pretty ironclad (as far as parent/child contracts go, at least), Paul gets access to her Facebook account's password so that he can completely deactivate it.
What's surprising is that this whole avoiding Facebook contract was Rachel's idea, not Paul's. According to Paul, his daughter wanted earn some money and stop getting distracted with Facebook. Two birds with one stone kind of thing. Rachel won't be quitting Facebook altogether though, she plans to use it again in six months, but it's good for kids to get away from social networks. In fact, everyone should get away from this goddamn digital life and offer their kids the same deal.
---
---
Related Articles
In an effort to strengthen commercial and economic ties between Afghanistan and India through trade and investment, the Governments of
The new Emergency Unit for Farkhar District Hospital will include three emergency rooms with enough capacity for treating nine emergency
The Asian Development Bank (ADB) signed a memorandum of understanding (MoU) for a number of energy projects that will help