A girls' high school in Mazar gets new school building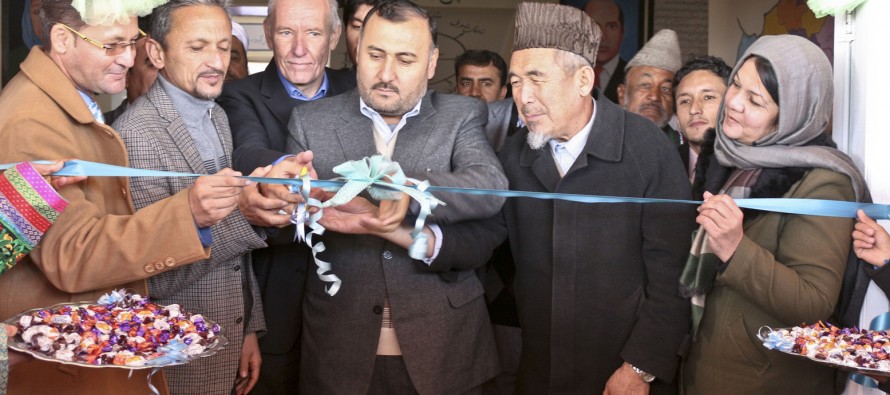 Balkh Department of Education (DoEd) inaugurated a new 24-classroom building for Sayed Hedyatullah Naqshbandi Girls' High School in district 8 in Mazar-e Sharif.
Funded by the German government, the overall budget for the school building project amounted to over AFN 30 million. The amount also went to supplying the school with new furniture for classrooms, office and laboratory equipment. Overall, the new building and facilities will directly benefit over 5,000 students and 167 teachers.
Speaking at the inauguration ceremony, Ms. Saida Mirzada, Principal of Sayed Hedayatullah Naqshbandi Girls' High School, said, "The building has solved our main problem, which was lack of proper classrooms for our female students, so we thank Germany and Afghan government for addressing this problem." The inauguration ceremony was attended by Mohammad Zahir Wahdat, Balkh Deputy Governor, Mawlawi Abdul Aziz Azizi, Director of department of Education Balkh Province, Dr. Mohammad Afzal Adeed, Member of Provincial Council, Gholam Rabani Dastagir, Deputy of Department of Economy, Salih Mohammad Khaliq, Director of Information and Culture of Balkh, Mr. Florian Smitmans, Development Commissioner Federal Ministry for Economic Cooperation and Development and was hosted by the Department of Education in Balkh.
With the new building, furniture and facilities, the girls now have a better learning environment at the school, contributing to improvements in teaching and education. Ultimately, with more girls enrolled in high schools, job opportunities will also improve for women, creating both new opportunities for greater empowerment of women and economic development in the district or region. Located in the densely populated area of Kart-e-Nawbahar, Dasht Shor in district 8 of Mazar-e Sharif, the Sayed Hedayatullah Naqshbandi girls' high school was founded in 1990. Until today, the school had been struggling to provide proper classrooms and learning conditions for the students.
The Department of Education in Balkh was responsible for execution of the project, based on a decision by the Provincial Development Committee (PDC) in Balkh. The project was carried out with the assistance of the Regional Capacity Development Fund (RCDF), which is financed by the German Federal Ministry for Economic Cooperation and Development (BMZ).
As part of Germany's cooperation with Afghanistan, the RCDF, which is financed by the German Federal Ministry for Economic Cooperation and Development (BMZ), is implemented by Deutsche Gesellschaft für Internationale Zusammenarbeit (GIZ) GmbH. In six provinces of Northern Afghanistan, RCDF supports the development priorities of its Afghan partners at the provincial and district level, while at the same time providing training and coaching programmes for civil servants. With its broad range of activities, the RCDF aims at increasing Afghan ownership of the development process, strengthening state institutions and promoting transparency and inclusiveness.
---
Related Articles
Afghan Ambassador to the US, Dr. Hamdullah Mohib, spoke about the efforts and measures underway to boost private investment in
The 4th Afghanistan Economic Development Expo is slated for August 7th-10th in Dushanbe, Tajikistan. The exhibition is aimed at strengthening
The Asian Development Bank (ADB) has appointed Indonesia's Samuel Tumiwa as new Country Director for Afghanistan. According to a statement