A new bridge connecting 16 villages to district centre opens in Khulm, Balkh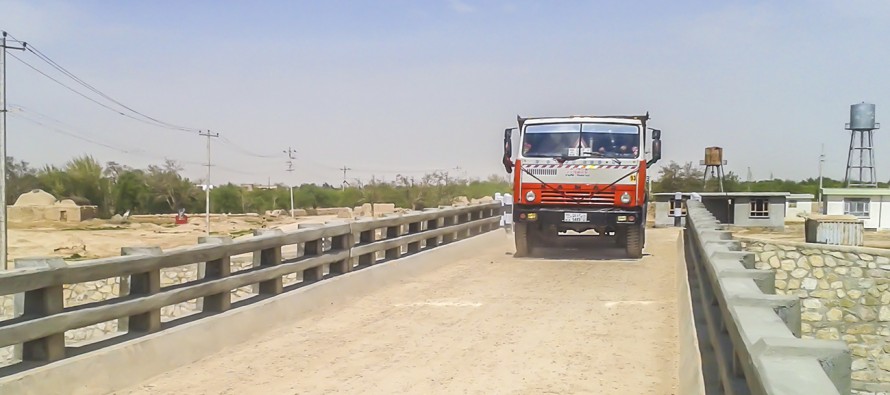 A new bridge opened in the village of Khwaja Burhan in Khulm district in Balkh, connecting 16 villages with the district centre.
Villagers now have quick and safe access to healthcare, schools, markets and administrative facilities. The costs of construction to the amount of AFN 16.8 million were financed by the German government.
The 26-metre bridge addresses one of the real needs of residents in Khulm.
Villagers from communities close to Khwaja Burhan previously had little to no access to the district centre. The bridge allows them to reach both the district centre and connects them with the rest of the province. Patients can take advantage of proper healthcare, school children can now go to school and farmers can sell their produce on the local market. In general the bridge can contribute to improving living conditions for residents in the villages and citizens.
The bridge was officially opened by Zabiullah Akhtari, Head of Sector Services of the Provincial Governor's Office, Engineer Abdul Basid Ainey, Director of the Department of Rural and Rehabilitation, Sayed Ibrar Hashimi, Khulm District Governor, Gholam Rabani Dastagir, Deputy Head of the Department of Economy in Balkh, and Saleh Mohammad Moradi, Member of Balkh Provincial Council. Florian Smitmans, BMZ Development Commissioner in Balkh, represented Afghan-German Cooperation.
The decision to construct the Khwaja Burhan Bridge was made by the Balkh Provincial Development Committee. The project was implemented by the Department of Rural Rehabilitation and Development of Balkh, with financial and technical assistance from the Regional Capacity Development (RCD) programme, which is financed by the German Federal Ministry for Economic Cooperation and Development (BMZ).
As part of Germany's cooperation with Afghanistan, the Regional Capacity Development (RCD) programme is financed by the German Federal Ministry for Economic Cooperation and Development (BMZ) and implemented by Deutsche Gesellschaft für Internationale Zusammenarbeit (GIZ) GmbH. In six provinces in northern Afghanistan, RCD supports its partners' development priorities in the provinces and districts, while at the same time providing training and coaching programmes for civil servants. With its broad range of activities, the programme aims at increasing Afghan ownership of the development process, strengthening state institutions and promoting transparency and inclusiveness.
---
---
Related Articles
Various development projects have been completed in Adraskan, Shindand, Enjil, Ghorian and Gulran districts of Herat province. Costing 62,198,170 AFN,
The World Bank has threatened to halt $200 million worth of aid to Afghanistan if Da Afghanistan Bank, the nation's
According to a new research report by the Equality for Peace and Democracy (EPD) organization, Afghanistan has suffered USD 24mn