A pilot project underway to boost Afghanistan's wheat sales by 50%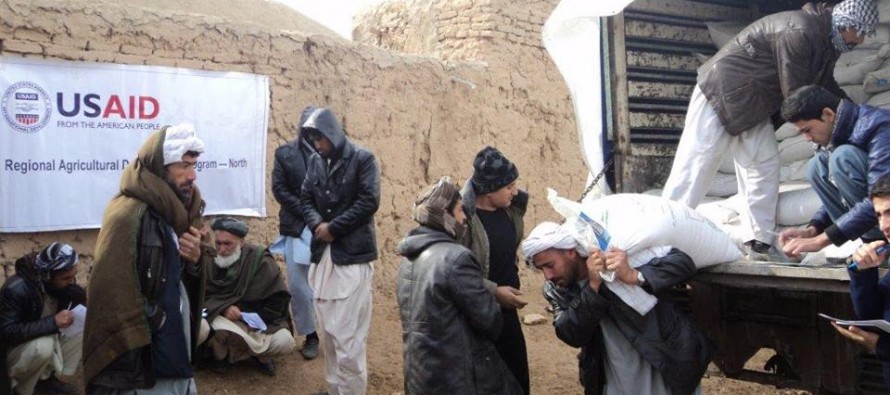 A pilot USAID project is connecting suppliers and wheat farmers to boost sales of high quality seeds that can increase production by up to 50 percent.
Wheat, which is the most important crop in Afghanistan, supplies half of the total average daily caloric consumption. However the sparse availability of quality wheat seeds leaves farmers struggling to meet domestic demand. Private seed enterprises sell the majority of their inputs to the Ministry of Agriculture, Irrigation and Livestock or to international donor-funded programs at higher prices.
To tackle this problem, USAID's Regional Agricultural Development Program – North (RADP-N) developed a pilot project in cooperation with Balkh Department of Agriculture, Irrigation and Livestock. The program partnered with two local seed suppliers to test a mobile seed distribution plan among 30 villages in Balkh, helping farmers purchase quality wheat seed at lower prices.
Ghulan Sakhi, who farms 30 jeribs of land, planted the seed right after he purchased it. "I am sure I will get more harvest this time from the better seed," he said. "Better harvests give us motivation and inspiration to not cultivate opium."
Over 120 farmers purchased seed during the mobile distribution pilot.
"We never distributed seed like this before. I was surprised by farmers' motivation to buy it. This was a success for us because this seed would have been stored in the storehouse but instead we sold it," said Haji Shah Mohammad, the owner of Sher Abad Seed Company. "If this [mobile distribution] continues it will be very helpful since there are so many farmers without seed in the districts." He added.
USAID began RADP-N in 2014 to advance food and economic security across Northern Afghanistan. It will work with 85,000 wheat farmers in Jowzjan, Balkh, Samangan and Baghlan provinces to increase productivity by 25 percent by 2019.
---
---
Related Articles
The Government of India organized the first ever tele-conference lecture for Afghanistan National Agricultural Sciences and Technology University (ANASTU) on
A 5-storey clothing store in Haji Jawzjani market in Northern Balkh province caught fire on Thursday morning. Officials said the
 Kabul, Afghanistan, 14th October 2012-TNT Express in Afghanistan has signed a two year shipping service agreement with Etisalat. Etisalat Afghanistan