Access to higher education to unleash potential in Afghan women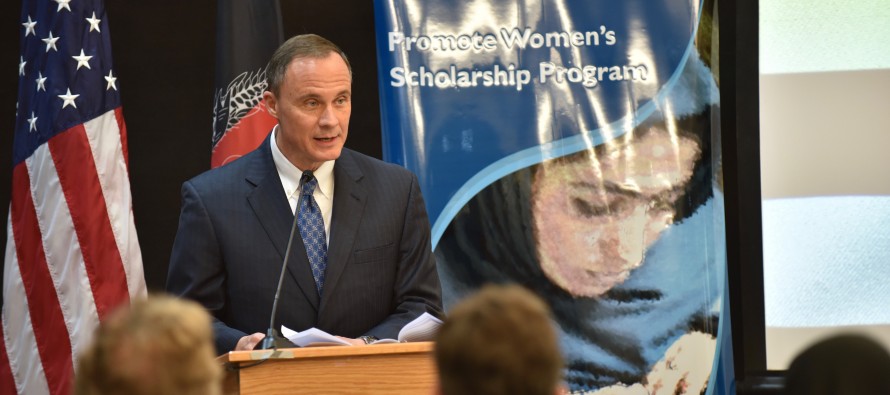 The Chief Executive Officer of Afghanistan, Dr. Abdullah Abdullah, the U.S. Chargé d'Affaires Michael Raynor, Afghanistan's Minister of Higher Education (MoHE) Dr. Farida Momand, Minister of Women's Affairs H.E. Delbar Nazari, Minister of Labor, Social Affairs,  Martyrs & Disabled H.E. Nasreen Oryakhail, the United States Agency for International Development (USAID) Mission Director Herbert Smith, and the Asia Foundation Country Representative Abdullah Ahmadzai launched the Promote Scholarship Program at the U.S. Embassy on Tuesday.
Funded by USAID and implemented by The Asia Foundation, the Promote Scholarship Program will provide scholarships to 720 Afghan girls over the next five years enabling them to complete their Bachelor's degree at private universities in Afghanistan.  The recipients of the Promote Scholarship, in turn, are expected to contribute to creating an environment that fosters women's empowerment.
Promote will work closely with the Afghan MoHE to select the scholarship recipients based on their Kankor exam scores, and to support students that demonstrate strong academic potential but are unable to pursue university education due to inadequate funds.
"It is time to thank the United States for their generosity and sacrifice to make those changes possible for the citizens of Afghanistan in making the future brighter for the new generations," said the Afghan CEO Abdullah Abdullah.
"This is a celebration, demonstrating the continuation of the U.S. Government's strategic investment in women's empowerment, and giving us hope and opportunity for advancement and personal enrichment, and for the advancement of Afghan women," said Chargé d'Affaires Raynor.
"Providing access to education…in all provinces…opens the door wider to develop and empower women with the necessary skills to serve as true change agents in their communities," said Mr. Ahmadzai from the Asia Foundation.
In November 2014, USAID/Afghanistan launched the Promote program to advance opportunities for Afghan women who can become political, private sector, and civil society leaders. Over the next five years, USAID Promote will provide up to 75,000 educated women with the skills and support they need to excel in their chosen fields, to become leaders in their communities and society, and to maximize their contribution to Afghanistan's continued development.
With more than $17 billion spent on development programs in Afghanistan since 2002, USAID provides the largest bilateral civilian assistance program to Afghanistan. USAID partners with the government and people of Afghanistan to ensure economic growth led by the country's private sector, establish a democratic and capable state governed by the rule of law, and provide basic health and education services for all Afghans.
---
---
Related Articles
Afghanistan's Central Bank, Da Afghanistan Bank (DAB), sold USD 27,500,000 to Afghan money exchangers on 09 March 2013, reported Sarai
Hameda Safi is the founder and owner of Tokma Fashion—one of the leading fashion designing companies based in Kabul. Ms.
Afghanistan and Uzbekistan continue their efforts to open transit route to enable Afghan goods to be sent to other parts