Access to Finance Exhibition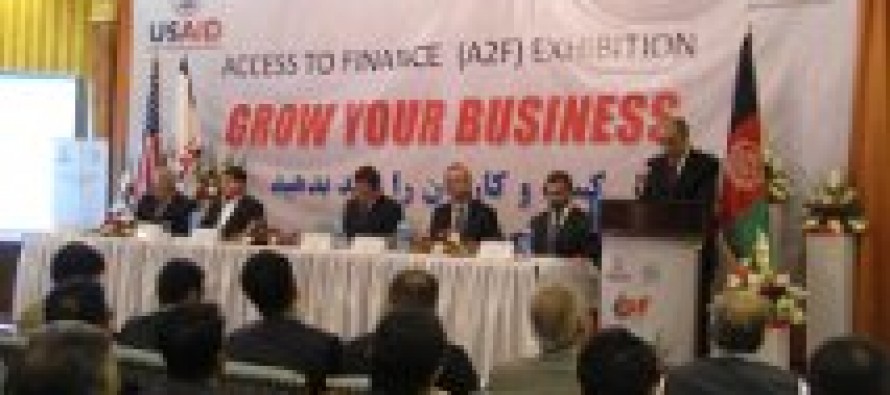 A two-day Access to Finance (A2F) Exhibition was held by the United States Agency for International Development (USAID) and the Afghanistan Banks Association (ABA).
The first ever exhibition of its kind, A2F featured more than 40 exhibition booths of banks, financial and lending institution, insurance companies, telecommunication and business support services.
The purpose of A2F was to connect financial institutions with enterprises looking for financing to expand their businesses. In addition, A2F Exhibition served to allow financial institutions to widen their customer base and target additional business sector and discover available credit, loan and other financial products.
The exhibition offered various workshops to provide business with information and advice on how to access capital and address some of the challenges of accessing finance.
One of the workshops was Opportunities and Challenges for Insurance in Afghanistan. The participants discussed the importance of banking and insurance for business growth in Afghanistan.
Capital itself is not sufficient for economic growth. Institutions such as banking and insurance that permit resources to flow to projects and industries promising the highest social return are needed to realize the growth potential of a country.
Banks and insurers help mobilize and allocate savings, monitor investment projects and credit risk, and mitigate the negative consequences that random shocks can have on capital investment.
Banking has been able to penetrate itself into the market, while insurance yet has a long way to go. The lack of awareness about insurance among the general public is one of the reasons for the slow pace of insurance market in Afghanistan. There is a need for channels to promote culture of insurance and its importance. Banks are one channel through which insurance knowledge can be spread.
The synergy of banks and insurers will robustly be predictive of increased productivity across the nation.
---
---
Related Articles
Da Afghanistan Bank (DAB), central bank of Afghanistan, announced Wednesday that Kabul Bank loans worth USD 50mn would be recovered
(Pajhwok Afghan News Weekly Price Report) Prices of gas, sugar and Arabian gold fell but that of the Iranian variety
The World Bank's latest report indicates Afghanistan as the fastest growing economy in South Asia. While most of the countries