ACCI Reflects on Afghanistan's Private Sector Development at JCMB Meeting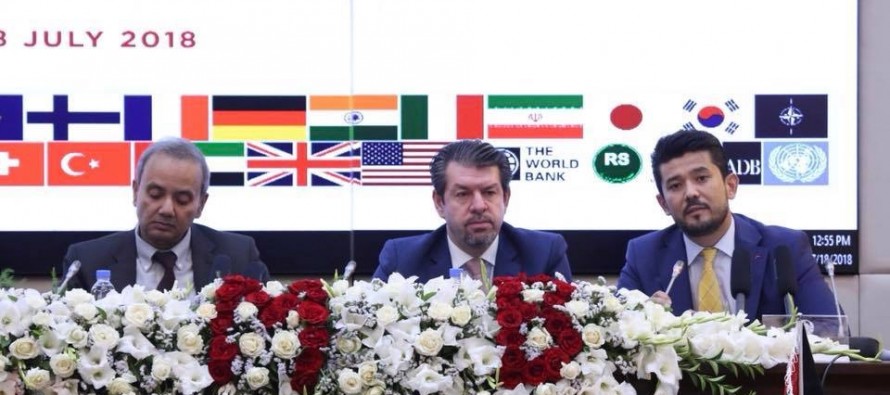 Atiqullah Nusrat, CEO of the Afghanistan Chamber of Commerce and Industries (ACCI) shared the private sector's views on current investment climate and economic growth during  Private Sector Development Session of the Joint Coordination and Monitoring Board (JCMB) meeting. 
Nusrat said key platforms such as High Economic Council and Pri-SEC (Executive Committee on Private Sector Developed) are established to have a very dynamic public-private dialog mechanism and where private sector needs and concerns are discussed. 
He listed the following reform actions taken by the Afghan government towards the implementation of the Private Sector Reform Priorities (London Conference 2014):
• Legal Reforms: As far as the legal reforms go, many important laws and regulations have been put in place, including Insolvency Law and Companies Law, which are very important for the private sector and will improve our DBI ranking considerably. 
• One-Stop-Shops: Cost and time of service delivery by the government to private sector has improved though creation of one-stop-shops for licensing, construction permits and the recent one for export at Kabul Airport. However, these one-stop-shops require additional resource, personal and expansion to key commercial hubs in order to fully benefit the private sector. 
[EXAMPLE: REGISTRATION FEE 100, PRESIDENTIAL DECREE FOR ALL RELEVANT ENTITIES UNDER THE UNBRELLA OF BUSINESS LICENSING OSS
• National Export Strategy 2018-2022: For the first time, we have a solid National Export Strategy that is a byproduct of genuine private sector and government collaboration. In our view, if fully implemented this will help improve the balance of trade, increasing value-added export through focusing on more domestic production, quality management and certification, supply chains, marketing of Afghan products particular those with competitive and comparative advantage.
• Air Cargo Initiative is one of the most practical reforms delivered by the government in response to the private sector needs so far. This initiative has not only served as an alternative route but has also given us significant leverage to decrease transit barriers with our trading neighbors and has contributed to an increase of more than 40% in our total export. 
Factsheet: 
Flight:  123 — 102 (India); Almaty (6); Turkey (12); Saudi Arabia (3)
Volume: 2,600 tons 
Total value: $53 million (Jul 2017 to present)
• Open Access Policy: Open Access Policy officially ended the sector's monopoly allowing private companies to build, own, and operate their own fiber optics networks. As a result, a private sector consortium of telecom companies announced an investment of $383 million in internet connectivity and 4G infrastructure, which will improve quality and reduce costs for consumers and businesses. 
Current barriers: 
Despite those notable achievements by the government, the private sector is still facing with the following challenges: 
• Investor safety and security: Unfortunately, every month several cases of kidnapping of business members take place. Many of these cases are not publicly reported due to fear of losing the lives of the abductees. 
• Access to Serviced Industrial Land: Although the government has recently taken concrete steps to allocate land plots — such as Barikab — to businesses and investors with a focus on agribusiness sector with an incentivized cost structure, but still access to land remains an important barrier for the private sector due to insufficient infrastructure and relevant essential services. 
• Energy: businesses, including industrialists, have difficulty in getting access to reliable and sufficient electricity with a fair tariff rate. 
– Facts: tariff rate: 6.25 AFN/kwatt, takes around 2 months in Kabul and longer in provinces to get a connection to the grid, sudden power cuts.
• Finance: Our businesses still cannot get affordable and long-term credit for investment and expansion. There is no insurance for risk-mitigation and trade financing, especially for production and export. 
– High rate of deposit in banks (around $4 billion) and lend $500.
– Lack of ESCROW account, issues for LCs, 
• Other issues include the currency depreciation, difficult access to visas with trading partners and an increased level of political uncertainty as we enter into the election cycle. 
Key reform actions: 
To maintain a certain degree of private sector confidence, these measures are proposed to be taken in the next 6-12 months: 
1. Expedite the efforts by the recently established Private Sector Safety Committee to take necessary measures for private sector safety and protection. [Procedure finalized, action plan yet to be developed]
2. Finalize the draft Industrial Parks Policy with the private sector consultation, expedite the approval of the Land Management Law by Parliament and initiate additional land plot distribution programs outside Kabul 
3. Finalize the ongoing effort Credit Guarantee Scheme Program that facilitates partial risk-sharing, long-term loans (3-5 years) for priority sectors and deposit insurance to help bring people's money from their pillows to bank accounts. 
4. Expedite the Property Registration process in Kabul (Arazi has launched this in Herat in 2018).
5. Complete the amendment of the Mining Law in 2018 with private sector consultation
6. Approval the regulatory framework and one pilot project for e-payment to pave the way for digitization of essential government services for businesses. [Reduce corruption]
7. Finalize the establishment of National Electricity Regulatory Authority (NERA) to manage tariff setting and other measures necessary for attractive private investment in the energy sector
8. Reach out to key partners to secure easier visa facilitation for Afghan traders 
9. Officially commit to align development spending with and the recommended Private Sector Reform Priorities  
10. Ensure the private sector representation in the Geneva conference
---
---
Related Articles
The Afghan government has built 190 cold storages for onion in eastern Laghman province as part of the Agricultural Products'
PAN-Two Wolesi Jirga members on Monday nearly came to blows on the issue of summoning a dozen ministers who spent less than
The leaders of Afghanistan and Uzbekistan discussed various cooperation areas in a virtual meeting spearheaded by the United States on