ADB grants USD 100 million to improve Afghanistan's irrigation system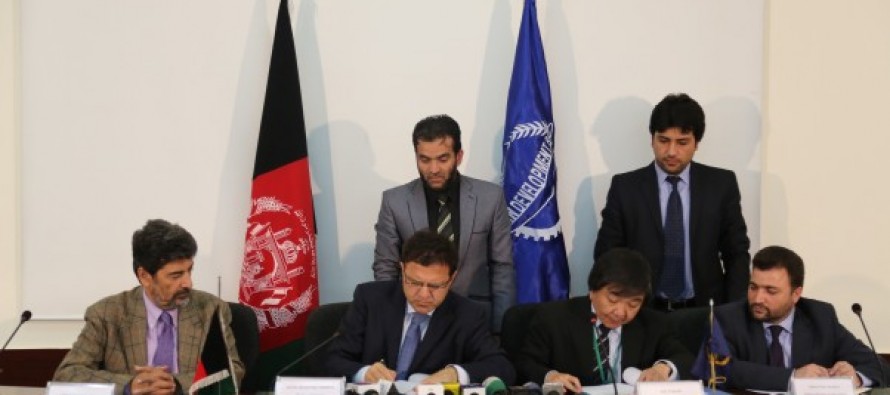 The Asian Development Bank (ADB) is extending a grant of $100 million to help Afghanistan improve its aging irrigation systems as part of a government plan to promote economic growth and healthcare of canada pharmacy reduce poverty.
The grant fund is being provided through the Water Resources Development Investment Program, a multi-tranche financing facility (MFF), which will provide $303.3 million over 10 years. The government has highlighted the importance and identified investments of $2.5 billion for irrigation and water management under the Afghanistan National Development Strategy.
Agriculture provides a living for about two-thirds of all Afghans and generates about 26% (2013) of the country's gross domestic product. However, reliable production is largely dependent on quality irrigation, and the current infrastructure is in need of substantial rehabilitation with new infrastructure also needed. The country's prolonged civil conflict has also weakened institutions responsible for managing and developing irrigation and water resources.
"Physical upgrades of the Irrigation system are crucial for improving livelihoods and achieving financial and food security of rural levitra volume pills households in Afghanistan. Improved irrigation systems, with the goal of boosting agricultural output, will promote economic growth and reduce poverty" said Hazrat Omar Zakhilwal, Finance of Minister. "Thirty years of civil unrest has severely degraded water infrastructure and the capacity of the institutions that manage it, and the program will increase the productivity of irrigated agriculture through the rehabilitation and development of new infrastructure, capacity building and the strengthening of institutions," said Joji Tokeshi, Country Director, Afghanistan buy levitra cheap us Resident Mission, Asian Development Bank.
The second tranche of the financing facility will support infrastructure improvements in the Lower Kokcha Irrigation System which contains areas of prime agricultural land. Funds will be used to rehabilitate and improve the Shahrawan and Archi canals and associated intake levitra sales online structures. The project will also strengthen water management institutions through creating WUAs (Water User Associations), and strengthening river basin and sub-basin agencies.
The second tranche work will upgrade irrigation infrastructure covering around 74,000 hectares in Kunduz and Takhar provinces, with cropping intensities expected to increase from 122% to 155%. Improved irrigation increases opportunities for high value added crop production and will help reduce the strong economic incentives to grow opium poppy.
ADB will provide 100% of the second tranche funding, and the Government of Afghanistan will supply $3.4 million equivalent. The estimated project completion date for the full investment program is March 2019.
ADB, based in Manila, is dedicated to reducing poverty in the Asia and Pacific region through inclusive economic growth, environmentally sustainable growth, and regional integration. Established in 1966, it is owned by 67 members – 48 from the region.
---
---
Related Articles
King Amanullah Khan dreamed of modernizing Afghanistan. He was a self-described revolutionary but was forced into exile in 1929, with
The Indian government will fund construction of the Shahtoot Dam in Kabul to provide drinking water facility in the Afghan
The Ministry of Rural Rehabilitation and Development (MRRD) officially inaugurated 39 development projects in Aibak the center of Samangan province.