Afghan and German policy-makers discuss budgeting to integrate gender perspectives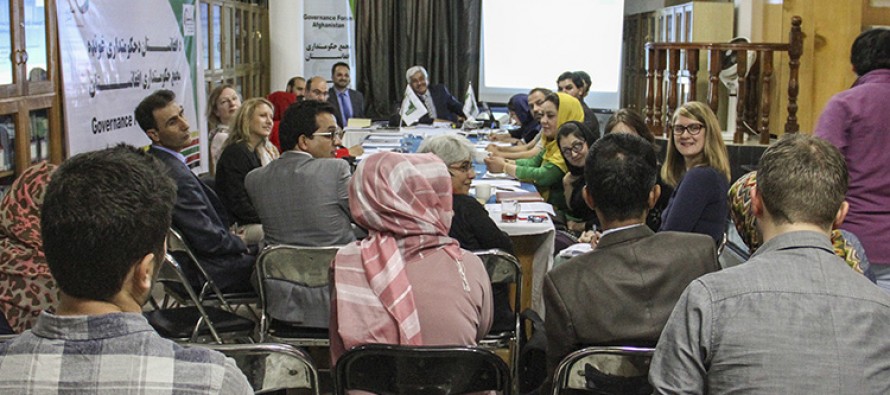 Afghan-German researchers presented their findings on Gender Responsive Budgeting, compiled over the last three months, at their first open dialogue held in Kabul on 5th August 2015.
They engaged in discussions with over 30 senior representatives from institutions, such as the Ministry of Finance, Ministry of Women Affairs and the Ministry of Economy. Participants also included the German Embassy and experts from Deutsche Gesellschaft für Internationale Zusammenarbeit (GIZ) GmbH. Besides governmental institutions, members of civil society and international organisations were also present.
The Ministry of Finance first embarked on pilot projects for gender responsive budgeting some years ago aiming to integrate gender perspective into the public finance management system.
Through these types of budget approaches, the aim is to support socio-economic empowerment of women. Often their needs and development priorities differ from men due to other roles, responsibilities and capabilities in the Afghan society. The event was hosted at the Afghanistan Research and Evaluation Unit (AREU) and their Deputy Director, Mr. Mir Ahmad Joyenda, encouraged a dialogue between all participants while emphasizing on the importance of inclusion of gender responsive planning and budgeting in local government, provinces and central government. Ms. Nicole A. Hofmann, Deputy Head of Development Cooperation at the German Embassy in Kabul, stressed the importance of the participatory approach of the Govern4Afg project in discussing the gender responsive budgeting. She added that the embassy is interested in receiving participant's views and discussions.
During this open dialogue all stakeholders were informed about the existing initiatives led by the Ministry of Finance and discussed their impacts and other key findings of the issues paper on Gender Responsive Budgeting. The forum discussed that the reform initiative would benefit from a supportive policy framework to enhance gender equality and women's empowerment within the Afghan public finance management system. The Afghan-German researcher team will include the information and discussion in the revision of the issue paper, which will be presented to the high-level policy dialogue at the end of 2015.
The two-year project "Governance Forum for Afghanistan: Govern4Afghanistan" was launched by German and Afghan partners to establish a platform for policy dialogue on governance topics in Afghanistan. Researchers and policy makers from both countries will provide evidence-based input to foster a dialogue, aiming at strengthening development cooperation in the governance sector.
---
---
Related Articles
A commission has been assigned to provide visa facilities for 20,000 Afghans to work in neighboring Iran, an official from
At today's Media Meeting, Afghan-German Cooperation and Mediothek in Kabul brought together experts from government, civil society, the media and
Businessmen and shopkeepers in southeastern Paktika province on Tuesday promised a boycott of the Pakistani currency that was causing them